With all the attention given to our fun gadget phones and our ever-present computers and laptops, we forget that there are some classic low-tech tools that make all the difference to our daily living and our work. I have teamed up with my Twitter friend Dane Findley (see bio below) to give you our top ten list — enjoy!  (Click the photos for larger versions)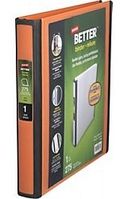 1.  Binders
Lorie: I recommend having a "Quick Reference" binder near your desk with all of the "cheat sheets" you're constantly wanting handy-– things like frequently called numbers, instructions for things you use often, color and style guides for your company logo, conversion charts, and the like. I also keep a "Tourist Binder" in my guest room (click here for a video about this). I like using Better™ Binders from Staples because they are reinforced in all of the right places and are noticeably more durable and sturdy than any other binders I have seen. (photo from staples.com)
2.  Clipboards
Dane: Once a week, I print up fresh, clean checklists and put each on their own clipboard, so I can grab them on my way to a meeting. The very look and feel of a clipboard inspires me to focus; it seems to say, "This is important!" I also use a clipboard for my "errand board," which leads us to…
3.  Sticky notes & flags


Dane: Used haphazardly, sticky notes can overwhelm a desk in no time. I use them only for my "errand board." I can bring the clipboard with me in the car, then pull off the sticky note for that particular store before entering — works extremely well for me. Even better, you can easily delegate the errands by handing someone else the sticky note right off the board!
Lorie: You want to use sticky notes as bookmarks, as delegation tools with instructions written on them, or as temporary reminders. NOT as wallpaper. 🙂
4.  Timers
Dane: Of course, timers are great for cooking and baking, but also for anytime you want to be reminded of something in the office. I have two timers on my desk and it's not unusual for me to have them both going.
Lorie: Timers are also a great way to overcome procrastination. You can tell yourself, "OK, I am just going to do something for 15 minutes (or 30 or 45) and then stop." It breaks up your inertia and creates momentum.
5.  The Right Chair

Lorie: We spend lots of time choosing a mattress because we sleep on it eight hours a night, but we give little thought to the chair we sit in for that amount of time or longer!
Dane: Your chair is where you do your best work! Ideally, your chair should have ergonomic attributes and support your body. I alternate between a standing desk and my "blogging chair" (photo here is of Dane's actual chair). I sometimes use my timer (see above) to remind me to take stretching/breathing breaks every 25 minutes.
6.  Document Sleeves


Lorie: I absolutely wouldn't want to work without these sturdy plastic sleeves to hold my project files and travel documents! They are Avery Extended Edge Document Sleeves (#72257). They have a clear cover, so they work like a file folder that you can see through, and there are two sides sealed so the papers tuck in and don't fall out easily. The extended edge means I can still see my label when the papers are inside, and because the sleeves are plastic, I can peel the label off and effortlessly reuse the folder. (photo from Amazon.com)
7.  Highlighters and Colored Pens
Dane: We have a green office, meaning almost all of our documents are digital. However, there are still sometimes contracts, books, notes, and brochures — and for all these hardcopy documents, highlighter and colored pens are essential. I highlight text, underline words, make notes in the margins, all in different colors to make it easier on the eyes. On my desk, I keep: one yellow and one orange highlighter, and three colored gel ink pens — red, green, blue. My favorite are the Pilot G-2 pens with the 07 point.
8.  Notebooks


Lorie: Nothing's better than a good notebook for keeping notes, lists, drawings, or whatever you want to capture quickly! I am crazy about these new Arc notebooks from Staples. You can remove and rearrange the pages easily, and add dividers, document sleeves, and task lists, just by pressing the edges into the clever disk system that holds it all together. Click here to see some fun videos about how people use the Arc! I'll be giving some away at our Twitter event this Wednesday night 12/29/10, 8-9:30PM ET. Just tweet #StaplesBrandProducts to register to win our prizes!
9.  Healthful Snacks & Water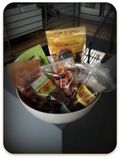 Lorie: I feel so strongly about this! Recently I've been reading The Power of Full Engagement: Managing Energy, Not Time, Is the Key to High Performance and Personal Renewal (by Jim Loehr and Tony Schwartz, Kindle version here), which reinforces what I have always known and practiced. To be highly productive you must stay hydrated and keep your energy steady and stable with the right food. It's like recharging your own battery! Snacking gives your body and brain the energy it needs to think clearly, and the act of taking a break is itself essential and strategic to increasing your overall productivity. I eat a lot of raw almonds, Larabars and fruit, and drink lots of water and green/herbal teas. NO soda– I have not been a soda drinker for 20+ years.
Dane: At home, I can whip up a healthy blended drink very quickly. It's probably my favorite workday snack. At the office, I am famous for always having a container of fresh, organic veggie-sticks on my desk. I get teased good-naturedly by my coworkers, but it's worth it! Also, I keep my "snack bowl" within grabbing distance of my computer (that's Dane's snack bowl in the photo here). It's mostly raw, living foods such as sprouted seeds, nuts, and dehydrated fruits and veggies.
10.  The Right Desk(s)
Lorie: I love basic L-shaped desk configurations. We now have computers as permanent fixture of our daily work, but we also need open work surface. Using an L-shaped desk you get both. I also have two other desks that are important to me:  My lap desk, and my treadmill workstation. Dane mentions above that he has a standing desk, and I have had clients with adjustable desks that have pneumatic lifts for either standing or sitting, which are ideal!
 
What are your favorite low-tech productivity tools?  Do you agree with our picks? Share in the comments!

It's been fun collaborating with Dane! I want to also thank him for the great photos in this post. If you're a Facebook enthusiast like Dane, you can check out his useful features on the high energy, longevity lifestyle, or catch his conversations about fitness and nutrition on Twitter, and sign up for his FREE email newsletter on living the longest and most joy-filled life possible, at instantdane.tv.

Follow me on Twitter for my Daily #ClutterTweetTip: www.twitter.com/clutterdiet, and see our weekly #ClutterVideoTip on YouTube at http://www.youtube.com/clutterdiet
If you are not reading this on clutterdiet.com/blog, in your own RSS reader, or via an Amazon Kindle subscription, this content most likely is being used without the author's permission and is violating copyright law. Please do not support these scraper sites!