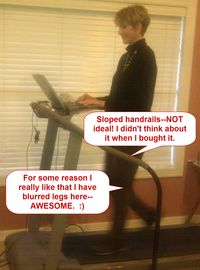 I have been "workwalking" for a while, since about November 2008. (Well, not continuously! LOL But you know what I am saying.)  Here is a blog post I wrote back then when I got the idea from a Time magazine article.
I walk on a treadmill for a maximum of 2 MPH while I work on my computer. It keeps me moving and keeps my hiney from falling asleep in my chair… and probably makes me think better with the blood flowing to the brain and all that. And of course it burns calories, and that's always a nice bonus.
I had to get a new treadmill not too long ago and it's taken me a while to figure out a new configuration. My old treadmill had straight handrails on the side, so I was able to put a plain wooden shelf across them and I was in business! You can see a photo of that here in my previous workwalking post.
This new treadmill (actually an old one I bought on Craigslist for a bargain price) has sloped handrails, so I had to do some homework to figure this out. Here are some photos of how I solved it using a product called the SurfShelf. Click these photos for a larger view.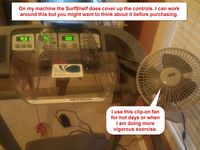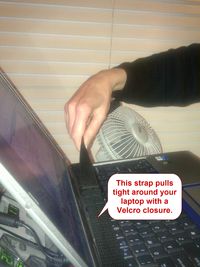 Here are my top ten guidelines for great workwalking success:
If shopping for a treadmill, think about workwalking and how you're going to accomplish this. Look at the position of the controls and look at whether the handrails are straight or sloped. The SurfShelf is good, but you can also do the simple shelf solution I used before (again, photo of that previous setup is here). If you have a treadmill already and you want something that works for almost everything, you can get these TrekDesks that are really large and freestanding. I might get one of these anyway because I may want more desk surface.
Check out your internet connection in the proposed treadmill area of your home or office before you commit to the whole setup. It needs to reach and give you a high-quality signal.
Ideally you want a place handy for your phone or even both phones (office & cell), a drink, and something else like an iPod. My treadmill has built in slots to hold a couple of these securely. If you have one of those big TrekDesks then you're completely set.
Go no more than 2 MPH when you're working (and do this at your own risk). That is the recognized safe speed that I have read about and it seems to be comfortable.
Wear walking shoes. You need to be comfortable. You can wear your regular work clothes because you're probably not going to get sweaty, but the shoes have to be right.
If you need to do intricate mousing work, go back to a sitting position somewhere. It's not going to work as well– best for just typing and surfing. Great for social media, writing, watching videos, etc. but most likely not Photoshop work or detailed spreadsheets.
Experiment with how you sound on the phone before taking important calls on the treadmill. You may be breathing harder, and the treadmill may make a whining noise. Call someone you trust to find out how it sounds.
Put a power strip/surge protector next to your treadmill. You're supposed to use one anyway to protect your treadmill electronics, so get one and use it for your laptop and even for a little clip-on fan like I have. Here's an awesome one from Staples, the EcoEasy Surge Protector, that actually can easily pay for itself in power savings features.
Mind the cords and cables! Make sure you thread everything around in such a way that it's impossible to ever get tangled up in it and fall!
Always wear your safety clip. Treadmills are supposed to have a safety key and cord that you clip onto your waist. This cuts off the power immediately if you fall. It could happen!
Are you a workwalker? Share in the comments! Enjoy!

Follow me on Twitter for my Daily #ClutterTweetTip: www.twitter.com/clutterdiet, and see our weekly #ClutterVideoTip on YouTube at http://www.youtube.com/clutterdiet