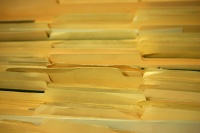 Filing is typically a fairly personal thing, varying because of how people's brains work differently and the fact that people have unique experiences and memories and triggers. There are some standard file folder label names that almost everybody has in their file drawers, like "Bank Statements" or "Medical Insurance," but here are a few practical ones that you might not have considered:
Travel: Places to Go. Here's a file to hold all of those brochures you've picked up and articles you've clipped about dream vacation spots. Grab this when you are planning some time off, and when you go through it, make sure you weed out what's no longer relevant.
Travel: Places We've Been. Sometimes it's useful to keep some brochures and maps and other information from vacation places that you might see yourself returning to someday. If you have a lot of these, sometimes people break them down into individual folders for different places, but that is not typically needed.
Travel: Local Things to Do. Here in Austin we get Austin Monthly magazine, and they always have great restaurant reviews and articles with names like "101 Great Things to Do in the Summer." This file is a great place to keep ideas like this for when you have a long weekend or have visitors coming to town. You can also make a "Tourist Binder" as I have outlined on this previous post. You can also call it something else if you like… none of this is set in stone!
Career Planning. This folder provides a home for aptitude testing information, various historical versions of your resume, performance reviews, and educational transcripts.
Credit Reports. Through the weekly "menu" plans of projects we provide in our online program, we remind our members to run these reports three times a year. Smart monitoring of your credit report keeps the chance of identity theft lower by helping you catch mistakes and fix them before they are too far gone. The only credit reporting website that is official and authorized, by the way, is www.annualcreditreport.com. Be very careful about visiting others who may be only trying to upsell you on further monitoring services (or worse!). 
Humor. Also known as the "Funny File." Where else do you have a home for those little torn out comic strips and article clippings after they have worn out their welcome on your bulletin board? If you still think they're funny and want to keep them, here's a place.
Trophies. Call it Keepsakes if you like, but the difference here is that these are things that represent accomplishments you are especially proud of. A photocopy of the first check you received in your business… a particularly meaningful thank you note from a customer or teacher… a clipping of yourself from the newspaper… These are things that make you feel great when you look at them. I also keep things like this posted off to the side of my vision board (my big corkboard wall I put in my closet– read about that here). And of course, if you have a bunch of these, you can make a scrapbook with them instead.
It's worth noting that all of these folder names I also have as ELECTRONIC folders too, or I use variations of them as tags in Evernote to hold little bits of information. Some people may even have these only as electronic folders and not have any paper!
What are your favorite, clever files you've created that help you? Share in the comments!
And, hey, get ready for a BIG announcement on Monday, everybody!  I can't wait….see you then!


Follow me on Twitter for my Daily #ClutterTweetTip: www.twitter.com/clutterdiet