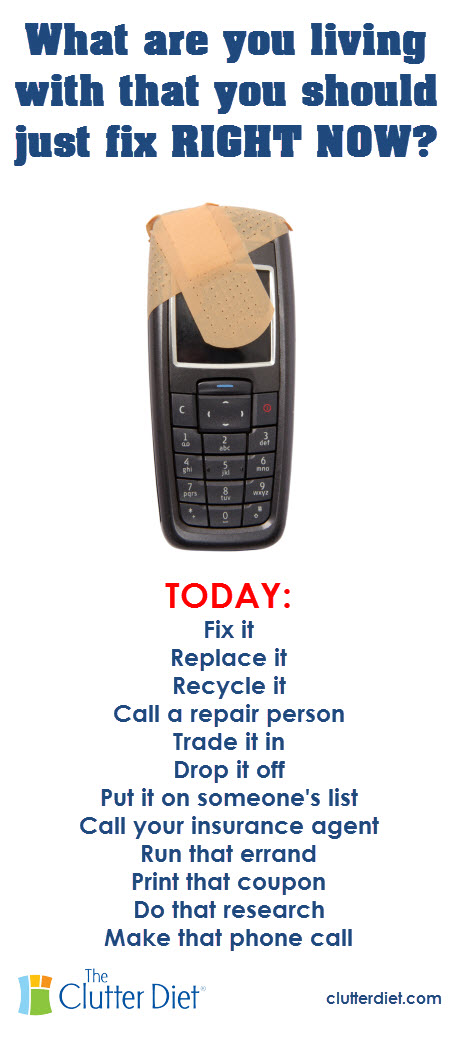 I just got a new phone this week (a Samsung Galaxy S III Android, if you must know), and it is heavenly. I had an Android phone before that was over 2 years old, and it had run out of memory. I use my phone constantly for business and travel, so this was not good. It was slow and cranky, and that made me feel slow and cranky.
After getting this new phone, I wonder how I had lived with the old phone's limitations for so long! The tiny screen, the squinting, the awkward typing, the inability to effectively manage my email on it, the inability to have any new apps (or even having to delete some I liked!)…
So often in life we just put up with things until we reach a breaking point, and then we say, "What took me so long?" Why did I wait so long to replace it, when I clearly needed to do that months ago?
I wrote an article about this for Good Housekeeping called, "Home Repairs: Why Haven't You Just Fixed It Already?" In that article, I listed these reasons:
It's not bad enough (You can live with it so you just do)
Lack of ownership (Who is supposed to fix it?)
One step away (Unsure of the next action step?)
It costs too much (motivated by not spending)
With my phone situation, I was reluctant to spend the couple-hundred dollars when my phone was not bad enough, not "really broken." So a couple of different reasons applied, along with that perpetual reason with technology– waiting for the next new thing to be released. At some point, you've just gotta take the plunge! I finally reached a breaking point when I had to turn my phone completely off and on and remove the battery multiple times in one day to reset it because it was not working right.
Are you living with a room full of clutter, or something broken in your house that needs attention? This is your wake-up call! Take action TODAY and share it with us in the comments. Soon, you'll be able to feel free and happy and say, "What took me so long?"
If you'd like help getting your arms around your organizing projects, that is WHAT WE DO… we have provided online organizing consulting to thousands of people in over 18 countries around the world! Get unlimited help from our team of organizing experts 7 days a week. With our Quickstart program, we'll help you choose a project, get started on it, and GET IT DONE– free for 2 weeks! Find out more at clutterdiet.com/quickstart.

Follow me on Twitter for my Daily #ClutterTweetTip, "Like" us on Facebook, PIN with me on Pinterest, see me on Instagram at loriemarrero, and watch our weekly #ClutterVideoTip on YouTube at http://www.youtube.com/clutterdiet