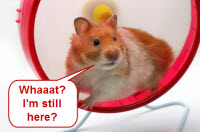 This week in our monthly members-only webinar, where we do "freestyle" Q&A with me and my expert team, someone asked us what our favorite organizing books were (besides The Clutter Diet book, of course).
Before I go on with my point, I am going to tell you what we said, because if I don't, I know that will be the first question in the comments later.  🙂
Our expert Kim Oser answered the question and she said these:
Now to my point. We are happy that people want to read more about organizing, and educating yourself on techniques, methodologies, and expert tips is a great idea. You definitely should do that… BUT… when you've already read a few books on organizing and nothing has changed in your environment as a result, you have to start asking:
Am I confusing activity with accomplishment?
You can read about organizing until you can rattle off household and productivity tips with the best of us. But if you don't take action, all of that knowledge is for naught. I have definitely organized clients' homes where there are stacks of organizing books and we end up donating a lot of them. (To Goodwill, of course)
I believe that personal change requires Education, Motivation, and Support. Books provide the Education and some of the inspiration to Motivate you, but you need Support to make sure you're taking action. That is a big theme in my own book– how to create your own support system to keep you going when you get discouraged in the process. Of course we also provide this support and accountability in our program (read more about that here). That's why I created it! We have members who check in with us every day, sometimes multiple times a day, to be accountable to what they want to get done and ACTUALLY DO IT. We provide unlimited support, suggestions, and expert advice– and sometimes, a nudge or even a shove. A really dainty and polite shove.  🙂
Where in your life are you spinning your wheels and getting nowhere? Are you fooling yourself with activities that are not moving you forward? And do you need support to get unstuck and pick up your momentum?  Questions worth asking. Share your thoughts in the comments. Have a great weekend!

Follow me on Twitter for my Daily #ClutterTweetTip: www.twitter.com/clutterdiet, and see our weekly #ClutterVideoTip on YouTube at http://www.youtube.com/clutterdiet