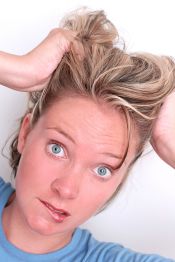 In my book I've identified three main types of clutter:
Purchased: Physical items for which you pay money to bring into your home.
Acquired: Physical items you bring into your home that come from your mailbox, gifts, school and work, freebies/giveaways, inheritances, and other people's storage.
Allowed: Time and communication clutter like overscheduled calendars, unnecessary activities, emails, and phone calls.
To the category of Allowed clutter, I would like to add that mental clutter can be as time-consuming as e-mail spam messages and even likely more damaging. There are a few kinds of mental clutter that I will be writing about in future posts. Today's focus: WORRY.
Two months ago I received a notice from my bank about some terms that were going to change regarding one of my accounts. I did not like what it said! But I had some time to contact them and choose whether to accept those terms or to close my account. I was mad about it and stewed about it for a while… and it really bugged me. So I finally sat down to make the dreaded call, bracing myself for an argument. And guess what? When I re-read the top part of the page, I realized it was regarding an old dormant account I hadn't used for years! It had nothing to with anything I currently was using.
I felt like such a fool, a total sillyhead, for letting this bother me so much, when it was all a mirage! As my mother says, I had "made a mountain out of a molehill." I wish I could get back all of the energy I expended worrying about it and being angry.
Consultant Dan Zadra said, "Worry is misuse of imagination." Amen, brother. Would much rather have been creating something constructive with all of that energy!
What could I have done differently? Taken action sooner. I am a big believer that action conquers fear. Do SOMETHING, don't wait. Make the call, grab the bull by the horns, git 'er done. Sometimes having all of the information becomes the cure. 
Next week: Another kind of mental clutter that I see people suffering with all the time, and my favorite tools for combating it… What have you done to effectively combat WORRY? Share in the comments!

Follow me on Twitter for my Daily #ClutterTweetTip: www.twitter.com/clutterdiet