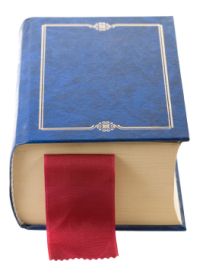 Last week I wrote about "The Poisonous Mental Clutter of Worry," and I wanted to write about another kind of mental clutter I see many people suffering from– the bad habit of keeping too many things in your head and not writing them down.
Have you ever seen those circus performers who do plate spinning? They have multiple plates spinning and balanced on sticks and they have to keep circulating back to each plate and giving it additional spins to keep the whole thing going. This is how many people manage their time and appointments in their heads! They are keeping lots of information in their short-term memory and hope that they remember it at the right time. They keep repeating things to themselves (maybe even out loud) like, "Oh, yeah, I've gotta remember to call Susie," and "Don't forget to leave that check for the babysitter."
Does this sound familiar? Here is the cure for this problem: I call it The Bookmark Principle.
How many of you, when reading a good book, put the book down and run around the rest of the day saying to yourself, "I'm on page 52, I'm on page 52, I'm on page 52…"? You don't, do you? You use something to help you remember that– it's called a BOOKMARK. A bookmark holds your place so you don't have to remember. It's a system that you trust enough to allow the information to never even register in your mind. You just let it go and know the bookmark will be there. You don't spin that plate.
The Bookmark Principle: Your time management system should be as trusted as a bookmark. David Allen talks about having "trusted systems…" I love that phrase. If you don't trust your calendar, task list, and other capturing tools as much as you would trust a bookmark, you need to spend some time considering how to improve them.
I recently wrote a series on the Five "C's" of Time Management, the first one being "Capture." You need to have some trusted capturing tools to grab those thoughts and tasks before they become more spinning plates in your head. Some of my favorite capturing tools are Jott, Evernote, and notebooks. Read my post on Capturing for more good capturing tools. 
Last night our paid members participated in a live monthly Q&A webinar session with me, and these kinds of time management issues come up time after time with people. What are your trusted systems? Share in the comments!

Follow me on Twitter for my Daily #ClutterTweetTip: www.twitter.com/clutterdiet