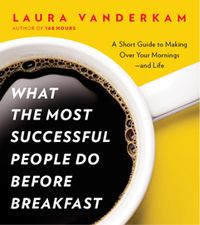 I just learned something important about time management that I did not already know! After 11+ years in this industry of organizing and productivity, I did not fully realize this:
Some hours of the day are better than others. And those hours are MORNING hours.
I did know that people have different times of the day when they have more energy and that you should follow your rhythms. And I have heard Stephen Covey say "First Things First" and many people teach that we should do our highest priority items before lower priority ones.
But a new eBook by Laura Vanderkam, What the Most Successful People Do Before Breakfast, finally explained to me WHY the morning hours are literally better than others.
She says, "New research into that old-fashioned concept of willpower is showing that tasks that require self-discipline are simply easier to do while the day is young." The study she describes shows that we basically have a tank of self-discipline that runs low as the day progresses. Our discipline kind of goes out the window once we exercise it throughout the day, and later we get lax. This is one reason why so many people who successfully exercise regularly tend to do it in the morning.
In addition, in our connected world, the earlier morning hours are the only ones when most people are NOT online and trying to get in touch with you. These are the hours over which you typically have most control and are not at the whims of as many other people's agendas. Great point.
This short eBook is easy to read (you can read it during breakfast!), and it contained lots of light-bulb moments, even for me, someone who thought I'd heard it all. I love the idea that "seizing your mornings is the equivalent of that sound financial advice to pay yourself before you pay your bills."
What did YOU do today before breakfast? Share in the comments! (Today I exercised for an hour, watered plants, worked on the treadmill– watch my video about workwalking here— and did some reading, in case you wanted to know!)

Follow me on Twitter for my Daily #ClutterTweetTip, "Like" us on Facebook, PIN with me on Pinterest, and see our weekly #ClutterVideoTip on YouTube at http://www.youtube.com/clutterdiet