I have always admired my friend, Renee Peterson Trudeau, for her ability to set boundaries between her work life and personal life and truly practice self-care. She is author of The Mother's Guide to Self-Renewal, which is a book I recommend often. This brilliant article is an excerpt from it. During the holiday season we really need to exercise our "No" muscles so we can say "Yes" to what really matters. Enjoy!
=================================================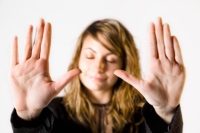 As women we're socialized to put others first, to be the nurturers and to be selfless. One of the hardest things for many of us to learn is how to say no.
Why is this so difficult? The answer varies, but often it has a lot to do with how we were raised and who we are as individuals. Consider the list below and see if any of these points resonate with you.
Common reasons many women have trouble saying no or asking for help:
Fear of disappointing others (do you suffer from the disease to please?)
Fear of failure
Fear of the reaction of others
An inability to receive support (you may ask, do I deserve this?)
Fear of rejection
Fear of being judged or criticized (for some, asking for help may be viewed as a weakness)
To encourage you in your newfound skill, here is a list of nine creative ways to say no. Most women find that the more they say no, the easier it becomes to draw clear boundaries that allow you to say "yes" to those things that really matter.
Just No: "Thanks, I'll have to pass on that." (Say it, then shut up.)
The Gracious No: "I really appreciate you asking me, but my time is already committed."
The "I'm Sorry" No: "I wish I could, but it's just not going to work right now."
The "It's Someone Else's Decision" No: "I promised my coach (therapist, etc.) I wouldn't take on any more projects right now. I'm working on creating more balance in my life."
The "My Family is the Reason" No: "Thanks so much for the invite, that's the day of my son's soccer game, and I never miss those."
The "I Know Someone Else" No: "I just don't have time right now. Let me recommend someone who may be able to help you."
The "I'm Already Booked" No: "I appreciate you thinking of me, but I'm afraid I'm already booked that day."
The "Setting Boundaries" No: "Let me tell you what I can do …" Then limit the commitment to what will be comfortable for you.
The "Not No, But Not Yes" No: "Let me think about it, and I'll get back to you."
(This list is adapted in part from Work Less, Make More—Stop Working So Hard and Create the Life You Really Want, by Jennifer White.)
From "Managing Your Energy," Chapter Four in The Mother's Guide to Self- Renewal by Renee Peterson Trudeau. Visit www.reneetrudeau.com to register for one of her transformative retreats or classes, learn how to start/join a self-renewal circle using the Guide, receive monthly life balance tips, or order the book. Trudeau is a career/life-balance coach and president of Austin-based Career Strategists, www.careerstrategists.net.