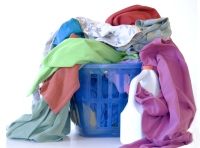 Yes, you heard me… never do laundry again! I just figured out how to make that happen.
Recently I was doing some journaling on the question my friend Wendy Lipton-Dibner poses in her book, Shatter Your Speed Limits: "If I woke up tomorrow morning and magically found I had everything I truly wanted, how would my life be different?" One of the first things I wrote down was that I would never do laundry anymore. How could this happen? Would I need to hire a full time housekeeper like Alice in the Brady Bunch? Would I start wearing disposable clothes?
The solution is about OWNERSHIP. I have written a post before about the concept of ownership of tasks ("I Thought YOU Were Going to Do It!"), and how that is often what prevents regular maintenance tasks from getting done. If ownership of a task is unclear, nobody ends up doing it.
For 20+ years, my husband and I have shared laundry duties and we always seem to get it done just fine, but what I recently noticed is that he doesn't seem to mind doing it as much as I do. I also noticed that my husband really doesn't like to cook or help plan meals, which we also have always done together. I offered that I would completely take over all of the cooking and meal planning duties, entirely, if he would take over all of the laundry.
NO PROBLEM.
Yippee! All I have to worry about now is my own personal delicate wash load, which I would strongly prefer to do myself. My boys do a lot of their own laundry as well, and my husband is coordinating that and making sure it's all flowing smoothly.
I have gone for a few weeks now with only my "unmentionables" to concern myself with, and I am in heaven! I love doing the cooking and meal planning, especially if I know it means no more laundry. I just pop on my iPod and catch up on podcasts and audiobooks, learning and laughing while I chop and clean.
Here are some questions to consider:
What household maintenance tasks would you be happy to never do again?
What tasks do you enjoy or not mind as much?
What tasks does your spouse or partner seem to enjoy doing? 
What could you negotiate to help everyone be happier with the ownership they have?
If you are single and don't have a person to negotiate with, have you ever investigated the actual cost of outsourcing your dreaded tasks? If you don't know how much it costs, it is hard to set a goal to pay for it. Consider the value of your time as well. If it takes you 3-5 hours a week to manage and you can outsource it for $20, is that worth it to you?  Here is a well-crafted answer I found online of one person's experience, which amounts to around $20 per week for 2 people. (NOTE: Added this bullet after publishing initially, because I didn't mean to leave out the single folks!)
How will you ever get "everything you truly wanted" if you never write it down and ponder how to make it come true?  (It worked for me.)
We have a 26-page Household Systems Workbook that lists all of the tasks involved in maintaining a household, with workspace to decide ownership and frequency of them and help you create a customized maintenance plan for your own home. This workbook could be a great way for you to figure out how to never do laundry again! The members of our innovative online program not only get expert consulting on their own organizing projects– they also get this workbook as a bonus for joining. Our first month has a low introductory price of $4.95 a month– one Abe Lincoln (UPDATE July 2011: We now offer the FREE 7-Day Quickstart which includes seven days of focused guidance from me plus an additional 7 days of full access and support!)– to get the workbook and get unlimited help from our team too. Click here to read more about it.
What are your dreaded tasks? Do you have any big household negotiating wins? Share in the comments!

Follow me on Twitter for my Daily #ClutterTweetTip, "Like" us on Facebook, and see our weekly #ClutterVideoTip on YouTube at http://www.youtube.com/clutterdiet
If you are not reading this on clutterdiet.com/blog, in your own RSS reader, or via an Amazon Kindle subscription, this content most likely is being used without the author's permission and is violating copyright law. Please do not support these scraper sites!