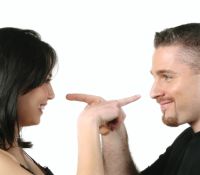 It's a familiar song in many households… "I thought you were going to clean up the dishes!" "Well, I thought YOU were supposed to do it!" Does this sound familiar?
If you are a regular reader, you'll probably know that I talk about organizing in terms of Prevention, Reduction, and Maintenance– just like weight loss. Having a plan for Maintenance is essential to "keeping the weight off," and the tasks involved must not only be identified, but the OWNERSHIP of those tasks must also be clear.
For example, if you do a project to organize your laundry room, the tasks to maintain your good work would be:
Rotating in hangers from the closet to hang up clothing from the dryer,
Taking out the recycling,
Putting away the clean clothing,
Periodically straightening the shelves,
Purchasing new cleaning products when they run out, and so on. 
The key is deciding which person is going to do those tasks– otherwise, they will not get done! Here are the three necessary factors required to make this all happen:
Ownership: Knowing to whom this task belongs
Commitment: Agreement and understanding that this needs to get done and why
Follow-Through: Actually doing it and understanding the consequences of not doing it
Our members have our video tutorial on Household Systems and Routines, with which they build a plan of maintenance tasks that include specifying ownership for each task in the accompanying workbook. (Our book offers this plan and workbook as well!) Of course, you can create systems that allow you to take turns per week or per night for many regular maintenance tasks, which also keeps it fair and adds variety.
What could you do today to clarify ownership and make someone accountable for tasks left undone (including maybe yourself)? It could be about your spouse or your kids, your office break room or your bathroom…  But if you don't change the habits that got you there in the first place, your beautiful organizing project results will revert right back where they started, making you a "yo-yo organizer." Do you relate? Share in the comments!

Follow me on Twitter for my Daily #ClutterTweetTip: www.twitter.com/clutterdiet