One of the greatest challenges to productivity is DISTRACTION. We are so distracted nowadays with dozens of gizmos, bells, gadgets, and beeps! And the larger issue is that many of those distractions are completely within our control.
It occurred to me that this whole issue of distraction is similar to the classic "Serenity Prayer," which talks about accepting things we can't change, having the courage to change the things we can, and having the wisdom to know the difference. Distractions may or may not be within our control– we have to stay present to recognize the difference and react appropriately.
Productivity is a practice. It's not something you turn off and on like a switch. Productivity is made up of good habits, and one of those is simply being present–  so that shiny objects don't tear you away from your priorities.
I rewrote the Serenity Prayer, which I am calling my "Productivity Proverb." I hope you enjoy it and will put it into your daily productivity practice! (Please pin it if you like it!)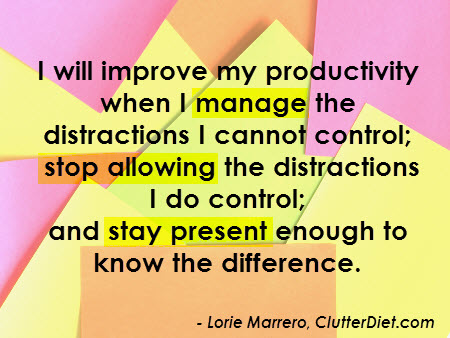 Follow me on Twitter for my Daily #ClutterTweetTip, "Like" us on Facebook, PIN with me on Pinterest, and see our weekly #ClutterVideoTip on YouTube at http://www.youtube.com/clutterdiet
If you are not reading this article on clutterdiet.com/blog, in your own RSS reader, or via an Amazon Kindle subscription, this content most likely is being used without the author's permission and is violating copyright law. Please do not support these scraper sites!