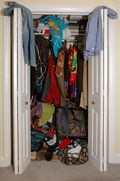 Do you have a clutter trouble spot in your home? Of course you do. Even the best-kept home will always have one or two trouble spots… Even being a professional organizer like me does not mean that you won't have something that always bothers you to some degree! The good news is that the majority of these trouble spots can be fixed or at least improved.
The Good Housekeeping Home Style blog this week will explain how to embrace and improve your clutter trouble spots.

Follow me on Twitter for my Daily #ClutterTweetTip, "Like" us on Facebook, and see our weekly #ClutterVideoTip on YouTube at http://www.youtube.com/clutterdiet
If you are not reading this on clutterdiet.com/blog, in your own RSS reader, or via an Amazon Kindle subscription, this content most likely is being used without the author's permission and is violating copyright law. Please do not support these scraper sites!