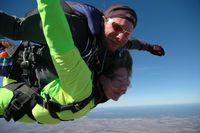 Do you write your goals down? Why not? It's been proven and demonstrated over and over again that writing down your goals makes them much more likely to happen. And reviewing them regularly makes it even more likely!
I was just reviewing mine, and I found an old list from 2005. I was astonished at what had come true! I had forgotten that I wrote those particular things down. Some of them are too personal to share, but there were a bunch of BIG ONES that I didn't realize I had written down that long ago and I have done! Here are a few examples:
I have skydived (yes, that's me in the photo- click it for larger view)
I have created a significant way to give back my time and talents to a charity
I have visited Italy (exactly the cities I wrote down)
I've gone to many Broadway plays
I've visited Hawaii
I've seen a live volcano (in Costa Rica)
I've published a book
We landscaped the backyard
I felt incredible reading that list over! And of course, there are many that are not done, but they are well underway which is also interesting. And some of them I hadn't thought about for the whole six years, but reading them again made me realize they were worth putting back on my radar.
So over this Memorial Day weekend, find a peaceful moment and sit and write your goals down. I like to use mindmapping software to do mine, because you can pour out your thoughts more easily and rearrange them. My current goals map looks like this image I have posted here below. I have been using MindGenius Business software as long as I can remember, but I also like MindManager. These are expensive business applications, but there are other less expensive mindmapping software products… here is a list of them.
It's helpful to have a list of categories to jog your thinking– here are the ones I like using:
Family & Relationships
Contribution/Legacy
Travel
Personal Development
Achievements 
Health & Fitness
Home & Possessions
Business/Career
Financial
The "Home & Possessions" category is where you'll write down your organizing goals like having an organized closet, garage, kitchen, etc.! And "Personal Development" is where you'll write down how you want to learn better time management skills.  🙂
Enjoy dreaming! And maybe several years later you'll have some nice surprises too when you look back at your list. Do you write down your goals? Do you have different categories or a different way of doing it? Share in the comments!

Follow me on Twitter for my Daily #ClutterTweetTip, "Like" us on Facebook, and see our weekly #ClutterVideoTip on YouTube at http://www.youtube.com/clutterdiet
If you are not reading this on clutterdiet.com/blog, in your own RSS reader, or via an Amazon Kindle subscription, this content most likely is being used without the author's permission and is violating copyright law. Please do not support these scraper sites!