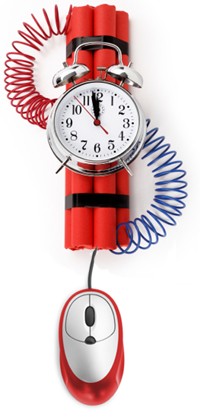 I'm being a heretic again. It's quite popular now in our industry of organizing and productivity to give the firm advice not to check email first thing in the morning. I really have to disagree with that, and I'm sorry because some of the people who say this the most are friends of mine…
But I think the distinction is in the approach. There is a difference between "checking" email and "processing" email. To me, checking means seeing what has come through and noting anything that might be an urgent matter that needs attention. Processing means "doing" your email– replying, getting sucked in.
I can think of numerous times that it's been a very good thing that I do check my email in the morning:
Someone has cancelled on a meeting or client appointment for that day
Someone needs to reschedule a time or postpone something a few minutes
My website is down and I get an automated notification email about that
When I was managing my team of organizers out in the field, a client has cancelled his/her appointment, meaning if we didn't know, someone on my team would be out driving someplace for no reason
A media person wants to talk to me and she is on deadline (yes, this does happen, which is cool)
Someone is waiting on a quick question to be answered from me to continue their own work that morning
And there are more examples… I think it's entirely possible to quickly check for these types of urgencies and then go on with your project-oriented work for the morning with peace of mind.
One way to manage not getting "sucked in" to processing it is to check your email on your smartphone instead of on your computer. You can easily see what's come through, but because it's harder to reply by typing with the little micromillimeter of skin surface on your finger on your phone screen, you are more likely to keep it brief and move on.
Absolutely, when this advice is given about not checking, it has to do with being proactive vs. reactive in your work habits, and I agree with being proactive as much as possible. Realities of the world and the workplace do mean that we do have urgencies to contend with, depending upon the type of job we have and the level of responsibility we carry. The key is not letting those urgencies control us entirely.
We can also say that phone calls should be used for urgent matters and not email. That is also wise, but many people do use email for everything, particularly when they send messages late at night about just such urgencies at hours when phoning would be inappropriate. We can dig in our heels and be determined that everyone "should" behave differently, but we can't control all of that. We can control our own behavior and exercise that control toward resisting being reactive whenever possible.
What say you? I am bracing myself for the discussion. :)  Share your thoughts in the comments!

Follow me on Twitter for my Daily #ClutterTweetTip, "Like" us on Facebook, and see our weekly #ClutterVideoTip on YouTube at http://www.youtube.com/clutterdiet
If you are not reading this on clutterdiet.com/blog, in your own RSS reader, or via an Amazon Kindle subscription, this content most likely is being used without the author's permission and is violating copyright law. Please do not support these scraper sites!