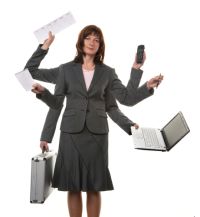 I was just telling a reporter that many of the people we serve in our Clutter Diet online program are women who are doing too much. They are working full- or part-time outside the home, volunteering at school or at church (or both), rearing children, sometimes homeschooling, caring for aging parents, running a small business on the side, managing a tight budget and trying to clip coupons and bake from scratch. (Sound familiar? Anyone?)
The reporter asked me, "Do you see a correlation between doing too much and having too much clutter?" Nobody's ever asked me that before. My answer was a resounding yes! Here's why:
Almost any activity that you do involves stuff that goes with it. Committing to an activity means that "gear" will be involved– ask any soccer mom! If you run a cosmetics business on the side, you will have LOTS of products, brochures, and samples you need to store in an accessible area. If you're doing crafts with your kids, you need to have the craft supplies and a space in which to work. The more activities, the more stuff in your life, and the more space it takes in your house.
Excessive activities crowd out maintenance time. When you clutter your schedule, you clutter your space. Maintaining your home takes time and if you're never home, you can't do it. Clothes need folding, closets need straightening, kitchen counters need clearing. Stuff that has accumulated needs to be put away, thrown away, or given away. When are you doing that if you are only stopping at home to "reload?"
Excessive activities take up your physical and mental energy required for maintenance. If you are constantly on-the-go and your time has been used up, your energy is often used up too. Maintaining the things in your home, whether it's repairing broken furniture or dealing with the paper piling up on your desk, requires your attention and energy. Even if you find an open expanse of time on a Saturday, if you don't have the energy, you're going to want to sink into the sofa rather than maintain your accumulating clutter.
This Labor Day weekend, take some of that extra time to catch up with your maintenance if you can, and if you don't have the energy, at least take some time to reflect upon which activities are really serving you, which are optional, and which are most important. What could you edit from your life that would free up some of your time and energy… and consequently, your space? Share in the comments! And see my previous post on "Overdoers Anonymous" with our suggested 12-step plan.

Follow me on Twitter for my Daily #ClutterTweetTip: www.twitter.com/clutterdiet