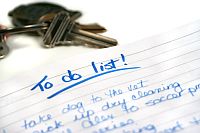 I am often amazed at the list of activities we hear about our clients and members doing. People are doing all of the normal things in life along with things like homeschooling, cooking everything from scratch, growing and canning food, making their own clothing, caring for aging parents, volunteering, and the list goes on. Add up three or four of these and you will need to be fitted for a superhero cape.
I propose that you consider this Twelve-Step Program of Overdoers Anonymous:
We admit that our lives have become unmanageable trying to do it all.

We have come to believe that lowering our unrealistic standards can restore us to sanity.

We have made a decision to reduce the number and frequency of activities for ourselves and for our children.

We admitted to our families and friends that we can't possibly keep this up long term, and we have donated our superhero capes to charity.

We are entirely ready to buy a birthday cake from the supermarket and give up growing the pumpkin patch for autumn decor.

We have humbly asked ourselves for forgiveness for not being perfect and not being all things to all people.

We have made a list of tasks we can delegate and people with whom we can share driving duties.

We have made direct amends to people we have harmed wherever possible, especially ourselves.

We have continued to take personal inventory of our schedules and stopped ourselves from mindlessly volunteering.

We have sought to improve our conscious decisions about why and how we are spending our time every day and outsource tasks whenever it makes sense for our families and ourselves.

Having had an awakening as the result of these steps, we try to carry this message to others and pass it on to our children.
This twelve-step addiction "program" is a joke, but the message is not. Are you addicted to excessive activity? When you're quietly alone with your thoughts, do you enjoy your own company? Why are you so busy? It's something to think and journal about.
The above is an abridged excerpt from my new book. (Feel free to reprint or repost with proper attribution.) For some great time-saving ideas, we have a free 12-page report called "30 Ways to Find Time to Get Organized," available along with our wallet reminder sleeves when you sign up for our weekly newsletter. It might really help!

Follow me on Twitter for my Daily #ClutterTweetTip: www.twitter.com/clutterdiet