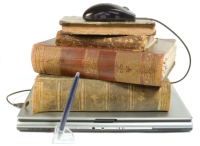 I guess I have been on a roll lately with thinking about reading material and bookshelves. First my post on opting out of the Yellow Pages, then the National Geographic "Golden Shelves of Glory" post…
Today I was thinking about how many traditional reference books we no longer use because of the web. I am not saying you SHOULD get rid of these if you like them, but I am merely asking some questions to get you thinking.
How much shelf space are these thick books taking up?
How much use are they getting?
Are they even up-to-date with the information they offer?
Could you use the voluminous shelf space they currently occupy for something more relevant that you need handy?
Here's my list of books to consider:
Atlases: An atlas is outdated as soon as it's printed, given normal growth, political changes, and boundary adjustments that occur regularly throughout the world. Google Earth is great for these needs, as well as Google Maps and Mapquest. Not perfect either, but definitely where I would go first to look.
Medical references: Would you open this book first, or go to WebMD or MayoClinic.com?
Movie guides: Every year new versions of books like Leonard Maltin's are updated and printed. Do you go there first, or IMDB?
Almanacs: The Farmer's Almanac used to be the go-to resource for moon phases, long term weather forecasting, and other useful information. Now they have www.almanac.com, where things are more updated and searchable. 
Quotation references: There are lots of places online to search for good quotes, such as Freeality.com and others. Books will not have up-to-date quotes from more modern sources.
Encyclopedias: Talk about shelf space! I am sure we can have a lively debate about Wikipedia's validity, and that is a good debate to have, but if I am going to look up something I will always go somewhere online and search until I find the most credible source.
Cookbooks: I love cookbooks as many people do, but nowadays I am finding I go online first when I need a recipe. I keep my own recipe binder for the ones I use and love (see our Clutter Video Tip here about creating a recipe binder). I would encourage you to think twice before buying new cookbooks, and if you have some on your shelf that you've owned for years and only use one or two recipes out of them… you can photocopy the recipes you like, put them in your binder, and donate the book.
Dictionaries: I am a writer and I am sitting at a computer doing that, so it makes sense for me to jump over to The Free Dictionary for look-ups. We do have a small paperback dictionary here for the kids if they need one for manual-style homework, but the days of owning a gigantic copy of Webster's on our shelves are over.
Thesauri: Yes, the plural of thesaurus is thesauri. I know this because I looked it up on The Free Dictionary.  ;)  I use The Free Dictionary for thesaurus lookups too, because when you search for a word there, it gives you the dictionary definition and then you scroll down and see the thesaurus entries for that word on the same page. I also have enjoyed using The Visual Thesaurus, which can take you on a fun journey of springy, web-like word connections. You can try it but then it is a paid service for about $20 per year. There are many other free thesaurus options out there.
Household maintenance and repair references: Now you can go online and watch videos of someone doing repairs and remodeling projects, which is so much easier to follow than crazy line diagrams and vague instructions. Hometime.com is a good place for this, as well as eHow.com. 
Again, I am a book lover, so I am not suggesting you get rid of books you use and love. But I am going to lead the charge by donating several books, including a thick 1995 copy of A Writer's Companion, along with an old thesaurus, a paperback quotations book, a medical encyclopedia, and a couple of books on editing and punctuation–total linear shelf-inches freed up, FOURTEEN!
When you donate to Goodwill®, you can use our Donation Impact Calculator to learn how your books helped someone in your community! For example, donating 10 books is equivalent to:
17 minutes of resume preparation,
16 minutes of job search class,
12 minutes of career counseling,
15 minutes of financial planning class, or
19 minutes of on-the-job training!
What will you "go digital" on today from your bookshelf? Argue with me, or tell me how many shelf-inches of books you are donating in the comments!  🙂

Follow me on Twitter for my Daily #ClutterTweetTip, "Like" us on Facebook, and see our weekly #ClutterVideoTip on YouTube at http://www.youtube.com/clutterdiet
If you are not reading this on clutterdiet.com/blog, in your own RSS reader, or via an Amazon Kindle subscription, this content most likely is being used without the author's permission and is violating copyright law. Please do not support these scraper sites!