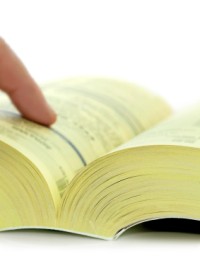 When I was just starting my organizing business ten years ago, a huge percentage of our clients came to us from a large (expensive) ad we had in the Yellow Pages. I did a lot of close tracking on that, and I watched that change, slowly but surely, from Yellow Pages to Google. The last time the Yellow Pages sales guy visited me, he couldn't argue with my numbers– it did not make sense for me to run an ad any longer!
Nobody I know uses the Yellow Pages. Maybe someone here in the comments will let me know if they do… but even my grandmother, who is in her 80s, uses the web to find what she needs.
If you don't like having 5+ pounds of paper clutter plopped on your doorstep, here's what you can do about it: www.yellowpagesoptout.com
I tried this out, and you do have to register with them and give a real email address, because you must click from that email to log in and reach the opt-out page. I opted out of all of the directories available in my zip code. That felt GOOD! We'll see if next year they do indeed stay away from my porch.

Other phone book tips:
Find out how to recycle your phone books by putting in your zip code here at Earth911.com.
Carry a Yellow Pages in the trunk of your car to use while you are out and about, if you don't have a smartphone to look things up online. (You can use Google by text message also, though, which is amazing! Read about that here.)
My family always used phone books as booster seats for little kids at the dinner table. I guess that is one thing they are still good for.  🙂
What do you think? Obsolete? Still worthy of shelf or counter space? Does it make you angry when they arrive? (Some people are extremely aggravated about phone book clutter.) Share in the comments! (And thanks to my friend Jim for pointing out the opt-out site on Twitter.)

Follow me on Twitter for my Daily #ClutterTweetTip, "Like" us on Facebook, and see our weekly #ClutterVideoTip on YouTube at http://www.youtube.com/clutterdiet
If you are not reading this on clutterdiet.com/blog, in your own RSS reader, or via an Amazon Kindle subscription, this content most likely is being used without the author's permission and is violating copyright law. Please do not support these scraper sites!