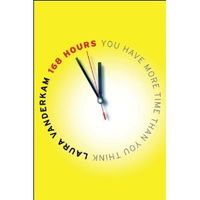 My new friend Laura Vanderkam has just released her latest book, 168 Hours: You Have More Time Than You Think. (Kindle version available here) What a title! If you haven't done the math, 168 hours is the number of hours we all have in one week–  24 x 7. What's immediately notable is that we ALL have the same number of hours. How is it that some people achieve more than others? Laura explores this observation in depth.
The book encourages you to keep your own time log, and coincidentally, I started reading her book on a Saturday evening. So it was a perfect time to start my own time log, beginning at midnight on Sunday! Here are some interesting results of what I learned:
I spent an average of 2 hours per day with my kids and 2.5 hours per day with my spouse. I tracked that anytime we were having solid time like talking, eating, or cooking together– "quality time."
I worked 53 hours that week. Laura says most people greatly overestimate how many hours they actually work.
I spent about an hour a day cooking, but I spent about 2 hours a day eating! :)  I think the long, lingering dining out experience on Friday night with friends skewed that number a little bit. And I counted my snack times and tea times.
I am proud to say that I spent only 3 hours the whole week watching TV, and 2 of those hours were a movie. I spent 12.5 hours READING instead.
I spent 51 hours sleeping, averaging a little over 7 hours a night. (I recently had the pleasure of meeting Dr. Daniel Amen, a brain health expert, who told me that anything less than 6 hours per night damages your brain! So I have been working on that.)
I would like to challenge everyone to keep a time log for at least one week– it is very eye-opening! It forces you to examine where your time actually goes, and it also makes you more focused on what you're doing. She provides a spreadsheet and tips for keeping your log at www.my168hours.com. I allowed myself to categorize things more than once, for example, eating dinner with my family was eating time, "spouse time" and "boys' time." What I did was keep a paper tablet with me everywhere and write things down whenever I changed activities. Then I tallied it all up on a spreadsheet and categorized it. I chose to track things that were important to me beyond the categories she recommends in the book, because I really wanted to know how much I read, for example. There will be particular categories like that for you too, so think about what you might want to track.
Each chapter of the book brings tremendous insights into how we actually spend our time, using actual statistics from the "American Time Use Survey." She advocates a keen introspection into what our Core Competencies are, figuring out what we really want in life with a "List of 100 Dreams," and making our 168 hours fit that vision. Laura definitely provided some perspectives on time management I had not heard before. (See my previous post on "Einstein time" from the book The Big Leap, which was also quite unique.)
How do you spend your 168 hours? Are you making them count? Use this Memorial Day weekend to do some of the exercises in this book on your Core Competencies and your "List of 100 Dreams," or at least get ready to do a time log for a week after the holiday is over. Report back here– I'd love to know what you learn about your time!

Follow me on Twitter for my Daily #ClutterTweetTip: www.twitter.com/clutterdiet