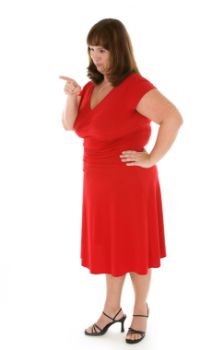 I talk to myself all the time. Admit it, you do too! Even if you don't do it out loud, you do it in your head. Sometimes that voice in your head is a much meaner voice than the audible one.
I want everyone to start the new year by thinking about how important language is to your improvement efforts. I just noticed that someone joined our online program and chose a username that was very negative, and it made me sad. I almost wanted to write to her personally to ask if she would change it… basically this person labeled herself AS something that she is trying to change. I won't embarrass the person, but imagine if you were trying to quit smoking and you called yourself "2packsaday."

Please do not label yourself with something permanent that actually is a variable thing that is within your control! The trick is catching yourself saying things that don't support your efforts and–right then– reframing and restating that to something that DOES support you.
DO THIS! For real! Remember when Willy Wonka said, "Wait a minute! Strike that, reverse it" ? (YouTube clip of him saying that here at 30 seconds in) Seriously, stop and change your language right in the moment, even if it's only in your head. Otherwise you won't break the habit.

So, instead of "2packsaday," make your username be "formersmoker." In our program, you could call yourself something like "organizedsally" or "alicetakescontrol".
Instead of "I'm just a disorganized person, I'm a mess," STOP and say "I am improving my organizing skills."
Instead of "I'll never be as organized as that person," STOP and say "I'm practicing being organized in a way that works for me." 
Instead of "I always forget to pay my bills," STOP and say "sometimes" or "often."  
When we speak in these negative absolutes we make it impossible to believe in change.
If you don't believe you can change, you won't. It's kind of like saying, "I'll Try…" (Just wrote about this sneaky little word "try" last week.)

I've quoted this before and I will quote it again:
Watch your thoughts, for they become words.
Watch your words, for they become actions.
Watch your actions, for they become habits.
Watch your habits, for they become character.
Watch your character, for it becomes your destiny.
– Author Unknown
So, if any of our members want to change their names, you can contact us on our form and we'll help you do that. You can tell us, "Wait a minute! Strike that, reverse it."
Now, if you'll excuse me, I need to go talk to myself. We have an appointment.  🙂

Follow me on Twitter for my Daily #ClutterTweetTip: www.twitter.com/clutterdiet, and see our weekly #ClutterVideoTip on YouTube at http://www.youtube.com/clutterdiet
If you are not reading this on clutterdiet.com/blog, in your own RSS reader, or via an Amazon Kindle subscription, this content most likely is being used without the author's permission and is violating copyright law. Please do not support these scraper sites!