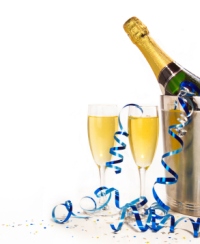 If I am TRYING to wish you a Happy New Year, it's not a very strong wish, is it?  That doesn't make you feel very solid and sure about my intentions.
I bet you've invited someone to a party or event before who said, "I'll try to make it." And you knew right then they were not coming.
My friend Joyce Bone is fond of quoting Yoda, who said:
"Do or do not… there is no try."
So many of us are in the New-Year's-Resolutions-Making-Mode right now. Consider that the root of "resolutions" is the word RESOLVE. In the dictionary this is a verb meaning "to make a firm decision about" and a noun meaning "firmness of purpose."
How firm are these decisions you're making about the year to come? Are you going to TRY to get more organized, or are you going to DO IT?  What real changes will you make? 
I guarantee that if you are already thinking, "I'll TRY to (fill in the blank here)," you are going to fail. Making changes is a commitment. Making changes requires three things– I have studied this quite a bit:
Education: Learning how to do it.
Motivation: Having the resolve and the WHY that makes it compelling for you.
Support: Getting the help you need when your motivation wavers, as it will.
Most people nail it on the first two, reading a book or watching something on television that inspires them, and they are truly motivated to change, but they forget the missing link— SUPPORT.
If you are serious and "TRY" is not in your vocabulary, make sure you set up support for yourself to make the changes you're resolving for this year. You can do that with a "buddy" system. As I have explained in my book, I get the majority of things done that I accomplish because I have two Motivation Partners whom I talk with every single week. I have done this literally for years. We check in, we push each other, we help each other get unstuck.
If you are trying to get organized, you can partner with a friend, and you can also consider getting support from our team online at ClutterDiet.com. We have an entire team of organizing experts– Certified Professional Organizers®– who provide our members with unlimited support, 7 days a week, in our member message board area. You can upload photos to show us what is going on in your space, we'll provide the "Education" you need to get it done, and when you're stuck, we'll be your Motivation Partners too. We have helped thousands of people in 18 countries since 2006– and we do this for about the price of a pizza each month. I am extremely happy that our program has made getting help from Professional Organizers affordable for anyone from anywhere! Click here to read about our membership options and see if it's right for you.
I want to firmly and resolutely wish you the happiest new year possible. I am so grateful for you, my friends, readers, followers, members, and colleagues! Thank you for being in my life and letting me share my messages with you.

Follow me on Twitter for my Daily #ClutterTweetTip: www.twitter.com/clutterdiet, and see our weekly #ClutterVideoTip on YouTube at http://www.youtube.com/clutterdiet
If you are not reading this on clutterdiet.com/blog, in your own RSS reader, or via an Amazon Kindle subscription, this content most likely is being used without the author's permission and is violating copyright law. Please do not support these scraper sites!