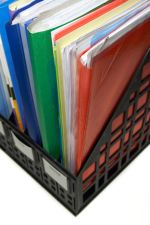 We are always telling our clients that manuals and user guides are obsolete the moment they are printed. Of course there are some you may use more frequently and those are great to hold onto, but there are some you probably never would use. You can now throw electronics-related manuals away with confidence because of this great website called "Retrevo." You search for the electronic gadget you have and it pulls up the manual for you, usually in PDF form. Try it! They also have great product reviews and buying information if you just need a new printer, for example.
I looked up my printer, my cell phone, and my camera and all of the info was there. You may want to verify that the information is online before you throw the documentation out, and keep in mind that the information may also be very easily available on the manufacturer's own website too. Retrevo appears to be just for electronics, but this concept of finding the information online applies to appliances, software, toys, and many other things too.
These kinds of booklets take up a LOT of space in file drawers and on shelves in many people's homes and offices. Liberate yourselves and liberate the space!