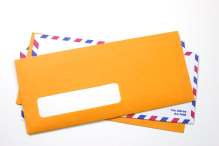 A local friend just told me about www.41pounds.org, a service that claims to eliminate 80-95% of the junk mail you receive. It is named for the fact that the average adult receives 41 pounds of junk mail per year!
You can pay them–guess how much?–41 dollars to use their service, and half the profits go to non-profit organizations such as environmental groups and schools. I am going to try it myself. It seems like a great resource and a very noble cause.
Here are some statistics from their site:
Each person will receive almost 560 pieces of junk mail this year.
The average person gets only 1.5 personal letters each week, compared to 10.8 pieces of junk mail.
More than 4 million tons (62,000,000,000 (billion) pieces) of junk mail are produced yearly.
The majority of household waste consists of unsolicited mail.
California's state and local governments spend $500,000 each year collecting and disposing of AOL's direct mail disks alone.
Individually, an average of 41 pounds of junk mail are sent to every adult each year. Approximately 44% goes to a landfill unopened.
Lists of names and addresses used in bulk mailings are in mass data-collection networks, compiled from phone books, warranty cards, and charity donations (to name a few).
Your name is typically worth 3 to 20 cents each time it is sold.
$320 million of local taxes are used to dispose of unsolicited mail each year.
It costs $550 million yearly to transport junk mail.
Shocking, isn't it? Especially the one about the cost of disposal of AOL CDs. Did you know there is a grass roots campaign out there just to try and stop AOL from mailing out their free disks? NoMoreAOLCDs.com. I love what the web can do.
Quote from Dave Barry: "I like to cheer myself up by pretending that my mail actually screams when I throw it into the wastebasket."