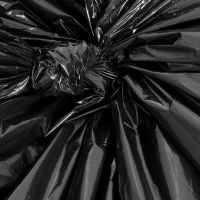 I recently read The Happiness Project by Gretchen Rubin (click here to see hardcover book at Amazon, click here to see Kindle version). It's a great book — the subtitle is "Or, Why I Spent a Year Trying to Sing in the Morning, Clean My Closets, Fight Right, Read Aristotle, and Generally Have More Fun." 

I got a huge kick out of her thoughts on decluttering. She says,

"For me… there was only one essential tool of clutter clearing: trash bags."

Great point! We're always teaching people that organizing does not mean neatly putting away a bunch of old stuff in new containers. It means you are intelligently considering what you need and how you use it. This means discarding what you don't need and doing that FIRST before heading out to stock up on cute bins. (See previous related post, "The Lesson of the Three Staplers.")

You don't want to ONLY throw things away into the landfill, obviously… you will want to donate and recycle too, as this helps people and also helps the environment. Goodwill is an excellent choice for your donations as they help put people to work, which we absolutely need right now in this economy. (Click here for a Goodwill donation site locator.) And please try not to throw away anything that could be easily recycled… I heard an earful about that in the comments here and on Twitter when I threw away my old athletic shoes! You can check Earth911.com to find out about recycling and disposal resources in your own region for almost anything you want to chuck out.
So, I would agree with Gretchen that trash bags are the most important organizing tool. I will share with you an insider tip, though– I always tell people my favorite "advanced level" expert tool in my entire toolkit (after my label maker) is a pop-up trash can that we collapse down and carry with us. On the job, we were always running into the problem of which doorknob to hang the trash bags from, and of course they didn't stay open for us that way. You can find these in stores' gardening departments, as they are intended for raking leaves, but surprisingly many types don't actually fit a standard lawn & leaf bag inside them. The best one we've found is Rubbermaid's 27-gallon "spring bag." They are not the easiest things to find– here is a link to one on Amazon, but you can find them at lower prices sometimes, and I have noticed they are randomly found in Ace Hardware stores. I use mine at home for Christmas gift wrap trash, camping, picnics, and parties, too. (I got a huge dorked-out thrill meeting the product manager for this product when I spoke at Rubbermaid's office last year.)
One might also argue that the most important organizing tool you already have is your MIND, for making decisions about what to keep! What do you think is the most important organizing tool?  Share in the comments!

Follow me on Twitter for my Daily #ClutterTweetTip: www.twitter.com/clutterdiet