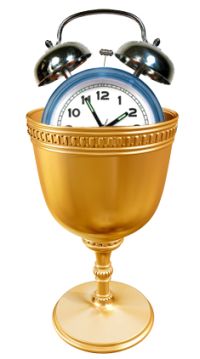 I had a client who would challenge me by frequently wanting to change time management systems. When I came to his office he would want to apply all of the new things he had read about since we last met, and he wanted to spend all of our time together redoing his calendar and tasks and applying infinitesimally tiny tweaks to the methods we had set up before.
What I ultimately confronted him with: This is a very clever way to avoid work. There really are thousands of different ways to capture your information, cue yourself to do your tasks, file your action papers and projects, and arrange your electronic information. But ultimately, it still comes down to YOU, GETTING THINGS DONE. None of it matters unless there is actual productivity as a result of your systems!
And, if your tweaking creates marginal productivity gains, are they enough to merit the time you'll spend implementing them? Always look at the ROI before you undertake any organizing project, whether it's a time management system or a closet. If you don't get back more from your investment than you put in, it's probably not worth spending the time to do it.
Sometimes people get "tired of" their time management system, such as the type of calendar they are using, and they want to switch. That's fine. But obsessing about the very best methods on a constant basis is not going to get your work done. Make sure you're producing, not just processing!
Do you recognize this sly procrastination method in your work? Share in the comments! And for my take on time management, the 5 C's (Capture, Commit, Cue, Complete, Correct), click here to read the somewhat unorthodox series I wrote on that. Have a great weekend!

Follow me on Twitter for my Daily #ClutterTweetTip: www.twitter.com/clutterdiet