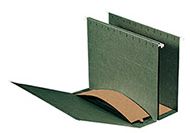 I was working with a client Friday and was reminded that many people still don't know about Box-Bottom File Folders. They are terrific for those very bulky files that would dwarf an ordinary hanging folder and cause the contents to bow up out of the top.
This picture is from the FedEx Kinko's website of a Smead product, which was the best photo I could find that shows how these work. (Other places sell them, though, and other companies produce them besides Smead.) They come with these cardboard inserts that you place into the bottom of the folders, which are themselves larger than normal to accommodate the insert. They come in different sizes, and many people are tempted to order the "assortment" box of various sizes. In my experience, just get a box of 2-inch box-bottom folders and not the assortment. The 1-inch size is barely worth bothering for, and the 3-inch size is so large that you might want to think about other options for that much paper!
Using box-bottom folders is a great way to neaten-up your filing cabinet and make it easier to wrangle those large files. Do ask yourself why you're keeping that much paper, though, and make sure that makes sense!