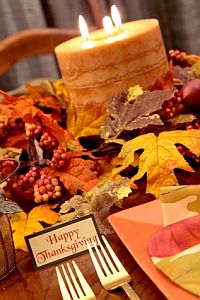 This Thanksgiving, why not plan ahead and give thanks to YOURSELF for being so organized? Imagine enjoying the preparations and festivities more and not feeling so rushed and scattered! Here are a few tips to help:
Shop smart & avoid last-minute grocery trips. Here's a great tip from my own mom: Right now, in advance, write up your typical family favorites menu of Thanksgiving (and December holiday) dishes… you know, the dishes that must make an appearance each year or else! In my family, a riot would break out if I didn't make the traditional crescent rolls and we didn't have my mom's pies. Make a corresponding grocery list for each dish. Save this as a document on your hard drive, and re-use it every year! Makes planning, delegating, and shopping incredibly easy. (See also my previous post, "Things People Usually Forget to Buy at Thanksgiving.") Also remember to shop EARLY and avoid the rush!
Be deliberate about delegating. Sure, most of the time you can get help in the kitchen fairly easily on Thanksgiving Day from kind family volunteers. But why not be deliberate about it? We have done this in our family, and people really appreciate the freedom of knowing they have done their part and can relax. I know I have definitely experienced feeling "guilty" if I am not in the kitchen until the whole thing is entirely cleaned up and finished. When you assign roles everything gets done and everyone feels more relaxed. Even the teenagers and the football watchers can do something! You can assign dish washing, dish drying, clearing the table, setting the table, carving the turkey and ham, whipping the cream, or whatever you like. And of course, you can delegate preparation of various dishes well in advance of the big day. 
Plan beyond the big feast. Many times on Thanksgiving the festivities last into the weekend and family is visiting from out of town. Remember to consider your leftovers and plan menus to feed everyone throughout the time you'll be together. Soups are easy and satisfying, and of course there is always the good old turkey sandwich. Click here for a link to some great Thanksgiving leftover recipes to help. Planning activities is also a good idea, since people can get tired of television and sitting around digesting. At our house we like to play card games and board games. We organized a big tournament one year with a tally board and everything! Think about places that your visitors might like to go and organize a trip out to someplace other than the shopping mall. (See also my previous post, "Make a 'Tourist Binder'")
We are celebrating twice this year– we already had a Thanksgiving meal together in October when my brother was recently on leave from Iraq. We'll be thinking of him a lot on the real Thanksgiving. What are your favorite Thanksgiving traditions and tips?  Share in the comments!

Follow me on Twitter for my Daily #ClutterTweetTip: www.twitter.com/clutterdiet