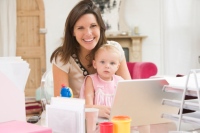 As a professional organizer since 2000, over ten years now, I have worked in many homes where there is also a business being run. It may be a consultancy, or someone might be a writer or other type of expert, or it may be that the person is operating a network-marketing business like Mary Kay or Arbonne.
Regardless of the type of business, I have seen a lot of circumstances that could have been planned and accommodated better. So here are some thoughts to consider before starting a home-based business, from an organizer's perspective… considering the space required and other operational pitfalls:
Does the business you intend to start involve physical inventory? If so, is there a commitment to regularly order this inventory?  You may have clear goals to be a top salesperson, but what if you're not? If this inventory stacks up, where will it go? Have you built in a profit margin for your products that is large enough to include the cost of outsourcing the order packaging and shipping when it gets too large for you to handle alone? Have a respectful conversation with your spouse/partner about the boundaries that he or she envisions for the inventory space in the garage and closets and spare rooms.
What are the storage needs, aside from inventory, that your business will create, such as records retention or other bulky items like books and binders? Think about a plan for records retention with an offsite records management company if the files are really crucial– I have seen a lot of important documents in attics and basements being exposed to extreme temperatures and moisture.
Are there systems that colleagues are using, like accounting and sales applications, that already work well in your industry? Don't reinvent the wheel– invest in those systems up front if you are serious. In the case of network-marketing companies, there is often software or an online sales and inventory management service that makes everything work more smoothly– USE THESE right away instead of creating your own system.
Do you have a designated workspace for yourself, or are you starting on a kitchen table? Work hard to figure out a separate workspace somewhere and avoid disrupting your family's normal functions with your work clutter. Ideally find a space you can close the doors on to help you keep proper boundaries with your time as well.
Does your family have a separate space for their own home office and school work needs? It's better to have duplicate sets of supplies like staplers, scissors, and tape for your business to use vs. the kids borrowing yours all the time. Ideally having a separate computer is also wise– consider buying an older laptop for children to use instead of yours.
Have you considered child care needs? Mothers often think they can work easily while the kids nap, but it is harder than you might think. Consider trading child care favors with a friend who also works from home to provide longer windows of uninterrupted work time. Ask yourself what will happen if the business really takes off? If you intend to work part-time only, would full-time ever work for your family if there were an incredible opportunity?
Will you be receiving visitors in your home as part of your business? Have you checked with your city and neighborhood association for related ordinances regarding parking and hours? Is there adequate soundproofing and privacy for your business conversations to occur if your family is home? If certain people need to come and go, install a keypad garage door opener instead of distributing keys to your doors.
Can you hear the doorbell from your office when deliveries and visitors arrive? Consider a doorbell extender chime, which you can purchase at a hardware store.
Lastly– if you already have a home-based business– is it really an active business, or is it dormant? I have seen people keeping a lot of business-related clutter around because they cannot admit to themselves that their business did not succeed. Having the clutter makes it feel like there is still a possibility the business could be revived… Finally admitting that the business is over frees a lot of mental energy and physical space that allows you to step forward into your next venture. Get real with yourself, mourn the loss, get support, and be brave!
Does any of this ring true? I will not soon forget the cosmetic products I have seen taking over homes in every available closet, cubby, and cabinet. Don't let that happen to you! Share your home business experiences in the comments!

Follow me on Twitter for my Daily #ClutterTweetTip, "Like" us on Facebook, and see our weekly #ClutterVideoTip on YouTube at http://www.youtube.com/clutterdiet
If you are not reading this on clutterdiet.com/blog, in your own RSS reader, or via an Amazon Kindle subscription, this content most likely is being used without the author's permission and is violating copyright law. Please do not support these scraper sites!