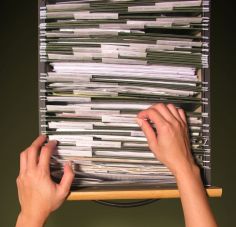 "They" say it's that time of year… however, I actually recommend cleaning out your files in April right after you finish your taxes. I suppose this is exactly 6 months after April, so if you want to do this twice a year, October and April make a lot of sense. (Who sets these national observances anyway?)
One of the most commonly asked questions I receive is about paid bills– do you need to keep them? Well, if you are a business entity, then yes. If you are talking about personal bills, you need to keep them if:
…the paid bill represents a receipt for tax deduction purposes
…you need a historical record of charges, like how much electricity you've been using
…you need to get reimbursed for something from another party
…there is a doubt or question about your payment of the bill
…you have notes written on the bill about something else important!
Otherwise, you really don't need to keep routine household bills. ("Your mileage may vary" so please check with your own accountant or attorney to be sure!) You can usually get a copy of one later if you need it, and otherwise it's a lot of extra filing and work to keep something you rarely if ever look at again. For our clients who do want to keep them, we recommend a brown January-December accordion file that you can just easily put the bills in by month. If you want to make sure things are paid and cleared, just do a "pending paid bills" file and keep only the most recent bills in it until the new ones come in. Or better yet– get as many of your bills electronically as possible and save them on a hard drive. No filing, no mess!
Remember to shred if there is any sensitive personal information on anything you throw out! Enjoy cleaning out your files if you are so inclined. Our Clutter Diet members can refer to our full articles in the Knowledge Base about Managing Paper & Filing, Bills & Bill Paying, Paper Retention Guidelines, and others. If you're not a paid member of our Clutter Diet main website, please go check it out… There is no other place, anywhere, that you can get help from a team of Professional Organizers for $15/month!