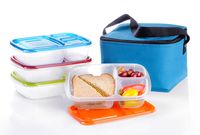 We all know that packing lunches is a great way to save money, and you can save time for yourself, too, by not driving somewhere else during the work day. For efficient brown-bagging, you want to consider three things– tools, process, and the food itself. Read this week's Good Housekeeping Home Style Blog. for tools, tips and menu ideas that are healthy for you and the planet.
What are your lunch-making tips and tricks? Share in the comments!
 Follow me on Twitter for my Daily #ClutterTweetTip, "Like" us on Facebook, and see our weekly #ClutterVideoTip on YouTube at http://www.youtube.com/clutterdiet
If you are not reading this on clutterdiet.com/blog, in your own RSS reader, or via an Amazon Kindle subscription, this content most likely is being used without the author's permission and is violating copyright law. Please do not support these scraper sites!