Happy Holidays! For a few years now I have written this "Favorite Things" post. I like to include things that are not necessarily about organizing but that are just practical, useful gifts that I think are cool. (Here are links to the 2009 list and the 2008 list.)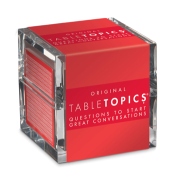 Table Topics: I have given these cubes as gifts many times– they are sets of cards with questions that are designed to start wonderful conversations, like "If you could do something dangerous just once, with no risk, what would you do?" I am including them this year in my list because they just came out with new sets of "Idea Cards." These are not questions but are instead ideas to choose from, for Date Nights and Family Time and "My Time." For example, a Family Night idea is, "Eat dinner backwards, starting with dessert and ending with appetizers." Fun! (image from tabletopics.com site)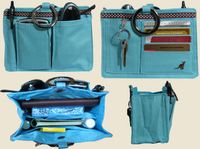 Purse Organizers:  From our own store– these are one of our best selling items! (Click image to enlarge view) When anyone sees mine in person they immediately want to buy one, and people have been buying multiples of them to give to friends. I think we're onto something! I love this because it provides a home for everything in my purse. Now I can just find things in my purse by "feel" since I know which pocket it will be in, and I can transfer the essentials from purse to carry-on to tote bag without forgetting anything. Use the coupon code "purse" for 15% off this product through January 7th, 2011!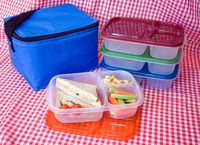 Easy Lunchboxes: My new friend Kelly invented these lunchboxes and made them with all of the qualities an eco-conscious and convenience-minded mom would want! (Click image to enlarge view) They consist of stackable, compartmentalized containers that go with cooler bags to carry them. No waste, reusable, easy to clean, etc. They sell out at back-to-school time, so it's a great time to get them while they are in stock. Great for taking lunch to work, not just for kids! (image from Easy Lunchboxes' site)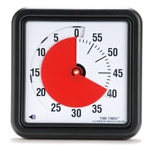 The Time Timer: These timers are recommended constantly in the organizing industry as a great way to help people who have trouble staying on track or estimating time. Especially wonderful for kids as they learn how to gauge time! The timers show the remaining time as a red disk that shrinks as time elapses. This video shows how it works, and this page shows applications in business, everyday life, and so on. I love the idea of using one to keep time in a meeting! It's a visual representation that makes running out of time a more concrete concept. (image from timetimer.com site)
What are your favorite, practical gifts for this holiday season? Share in the comments!

Follow me on Twitter for my Daily #ClutterTweetTip: www.twitter.com/clutterdiet, and see our weekly #ClutterVideoTip on YouTube at http://www.youtube.com/clutterdiet
(PS: To be proper about it, some of the links here are affiliate links so that I may get a small percentage of commission on these items… but that is NOT why I chose these items, I am just being smart about using an affiliate link if I have one!)