Last year I did a holiday "Favorite Things" list, kind of like Oprah does, except that I cannot possibly put these things under your chairs for all of you. (Here is the link for last year's list.) I thought it was so much fun, I wanted to do it again. These items may not necessarily be for organizing– they are just "make your life better" things. Useful, practical things I think are cool!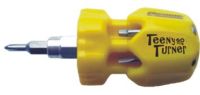 First this year, the Teeny Turner! No, not the one who was married to Ike… The Teeny Turner Micro Screwdriver
 has all of the little tiny screwdriver bits you need for fixing computers and eyeglasses and cell phones in a cute little package that is easy to hold and use. I just bought a big handful of these to put in Christmas stockings and give to friends. I found them at Fry's, but you can also buy them at Amazon
. (photo from firehawktech.com)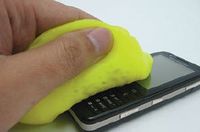 I have been working intensively on my computer this week… do you see a theme here? This next product is actually an "as seen on TV" kind of thing, but sometimes they have good ideas. Cyber Clean is this goo that you use to clean your electronics equipment. You squish it into all of the little crevices of your phone keys, your keyboard, your fan slots, and any other buttons or edges. You can also use it to clean toys and remote controls, etc. You can get it at the Container Store or at Amazon
. (photo from Cyber Clean's site)
Last year I wrote about Bose noise-cancelling headphones. They are definitely wonderful, but they are also large. One of my good friends since introduced me to Etymotic headphones. They are the size of normal earbuds, but they have impressive technology, not only for blocking outside sound, but for enhancing the sound quality in general. I have been amazed at hearing things in my music collection I never knew were there, like the sound of a strings player breathing or hitting his music stand. I use the 6i Isolators, and they cost about half what the Bose headphones cost! Love these on airplanes and pretty much anywhere.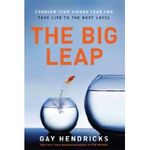 I have been telling everyone about this book and have bought it for many people. My friend Renee Trudeau introduced me to it (author of The Mother's Guide to Self-Renewal), and I wrote about it here previously. It's a CHANGE YOUR LIFE book, and it's quick to read. I am filtering everything through the concepts of this book lately. It's called The Big Leap: Conquer Your Hidden Fear and Take Life to the Next Level
, by Gay Hendricks. (photo from Amazon) (Click here for the Amazon Kindle version)
And finally, BAGS. I have already written about how much I love my Blue Avocado grocery bags, so they get another mention here as a great gift idea because they are just that wonderful. 

You can buy them at Sprouts stores and Whole Foods, or on their site. And for other bags… I love pretty much anything made by Built NY. They have many different neoprene cases and sleeves for everything from laptops to wine bottles. I love their charger case for organizing your gizmos on the road… and the colors and designs are fresh and fun! You can buy from their store online, and their stuff is also sold at Whole Foods. (photo from BuiltNY.com)
What are your favorite gift ideas this year? And what do you think of these? Share in the comments!

Follow me on Twitter for my Daily #ClutterTweetTip: www.twitter.com/clutterdiet
(PS: To be proper about it, some of the links here are affiliate links so that I may get a small percentage of commission on these items… but that is NOT why I chose these items, I am just being smart about using an affiliate link if I have one!)