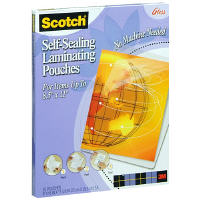 You've heard of the Terminator… now meet "The Laminator." I really like laminating important pieces of paper! Here are some ways that I use laminating pouches around my home and office:
Checklists for packing, speaking engagements, and other recurring needs
Workout training program- taped to my treadmill
Schedules for newsletter releases and other recurring business events
Procedures/instructions posted up on a wall or cabinet
Rate charts, price lists, tax tables
Cheat sheets
One-page downtown map in my car
I could go on and on…
I don't have a laminating machine–I use laminating pouches that you "peel & seal." I like the "Scotch Self-Sealing Laminating Pouches" product #LS854-25G. I have found them at the best price at Sam's Club (this photo is from their website), but I know you can get them at lots of office supply stores too. I use an architect's ruler to smooth the pages out while I peel off the backing (3-sided ruler that is easier to hold onto), but you can use any straight edge that works for you.
What could you laminate today? Get creative! It's fun AND efficient.