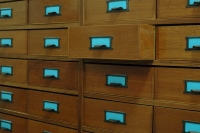 One of our members just was saying in our message boards that she threw out a big stack of cooking magazines when she realized that every time she wanted to look up a recipe, she looked it up online anyway!
Her story is a great opportunity to remind you that your house is NOT a library.  You are NOT responsible for keeping everything for future reference, nor is it even possible. How could you ever find anything specific anyway if it's not indexed, and are you planning on doing that indexing? And what is better for indexing than the Internet? So there you go. Google it, baby!
Let's just accept this fact right now: No matter what your area of interest or industry, there is more information out there about it than you could ever possibly digest in your lifetime. Consider blogs, websites, magazines, videos, newspaper articles, and even tweets. It's staggering. Accepting this fact is crucial if you are ever going to reduce the number of books, newsletters, printouts and magazines in your physical environment (and electronic documents and bookmarks in your digital environment). And accepting this fact is also crucial if you're going to reduce the time you spend attempting to consume and manage all of this information.
I have written two posts previously about what I call "Information Gluttony"–original post and another one to revisit the topic. Instead of thinking of information as a giant all-you-can-eat buffet, think of it as a room service menu that you can order exactly what you want from as you need it. Breathe for a second. The information is all there. You can search for it and find it when you want it, either online or in an actual library.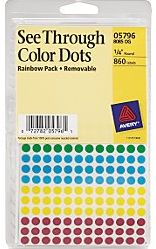 Here's a strategy for books, binders, and magazine files full of older issues:  Get some small dots with removable adhesive like these (here's a link to this product from Staples®, who provided this photo). "Dot" every book on a visible place like the spine, and note the date that you applied the dots. Write the date down on a sticky note if you want to, and put it on the inside of the first bookshelf or another significant place so you can remember.
Now, wait. Every time you actually access something for information or touch it for any good reason, you can remove the dot. As time goes by, you'll see how many dots remain. (It's probably going to be a LOT of dots.) At some point, maybe a year later, maybe more, you are going to feel very comfortable getting rid of those items because you'll have absolute proof that you have not touched them in all that time. I would ask that when you are ready to discard your books, please remember Goodwill®! Every 10 books you donate represents 17 minutes of resume preparation, or 12 minutes of career counseling, or 19 minutes of on-the-job training for someone who really needs it. Find out more with our Donation Impact Calculator at Donate.Goodwill.org.
So, give up trying to be your own librarian, and make more room for what matters most. Are you an "information glutton?" Share in the comments!

Follow me on Twitter for my Daily #ClutterTweetTip: www.twitter.com/clutterdiet, and see our weekly #ClutterVideoTip on YouTube at http://www.youtube.com/clutterdiet