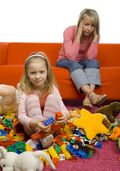 Our children bring much joy to our lives, but it's hard to focus on that when you just stepped on another Lego with bare feet. Kids are the cause of much of our homes' clutter, so what can we do to prevent some of that, or at least feel better about how we're preparing them for their own adult lives? Find out in this week's Good Housekeeping Home Style Blog.
What are your favorite organizing lessons with your kids? Share in the comments!
Follow me on Twitter for my Daily #ClutterTweetTip, "Like" us on Facebook, and see our weekly #ClutterVideoTip on YouTube at http://www.youtube.com/clutterdiet
If you are not reading this on clutterdiet.com/blog, in your own RSS reader, or via an Amazon Kindle subscription, this content most likely is being used without the author's permission and is violating copyright law. Please do not support these scraper sites!