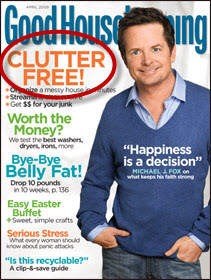 When I hear someone say the phrase "Clutter Free," I cringe a little. I am quite certain that somewhere out there I am guilty of referring to it at times, and the media definitely loves to say that phrase. (This cover is from our big 2009 feature story in Good Housekeeping, on the inside entitled, "I Went On A Clutter Diet.") 
It goes against one of the main messages I try to put out there: ORGANIZING IS NOT ABOUT BEING PERFECT.
Not only is "Clutter Free" difficult to strive for as a goal, I am not sure there is even such a thing that exists in the real world. Maybe in a model home or a photograph, but not in a real person's home. My own home is definitely not Clutter Free– it's not cluttered, but if you look around there will be something out of place somewhere and a pile of something on some kind of surface at some time or other. I have two teenage sons… and we all LIVE in our homes, we don't just gaze upon them.
Striving to be "Clutter Free" will set you up for disappointment. The key is striving for constant improvement over your current situation. If you have a room you can barely walk into, success means clearing a path and making the room usable. If you have a pretty functional home office, success means getting that filing finally done. It's all relative.
Organizing is really a journey, not a destination. There is not some perfect nirvana status of "Clutter Free" that will finally be achieved at some point in time– you will always have areas of improvement to work on.
I really believe I am in the personal change business, and organizing is just my topic. Getting organized is a vehicle to help clear your path for what you want to do in life. When you're organized, you can spend your time more intentionally and purposefully instead of wasting it looking for your sunglasses or making wasted trips to the store. If you wait to be completely "Clutter Free" before doing what is truly important to you, that day may never come.
As I always say, I preach "The Gospel of Good Enough." What realistic, incremental goals can you set for yourself today? What area of your life, once organized well-enough, could give you a return on your time and energy that would allow you to do something bigger and better? Share in the comments! And if you need help, our online team is standing by, 7 days a week, to support you and answer your questions. Read more here about how we can help you, for about the price of a pizza.

Follow me on Twitter for my Daily #ClutterTweetTip, "Like" us on Facebook, and see our weekly #ClutterVideoTip on YouTube at http://www.youtube.com/clutterdiet
If you are not reading this on clutterdiet.com/blog, in your own RSS reader, or via an Amazon Kindle subscription, this content most likely is being used without the author's permission and is violating copyright law. Please do not support these scraper sites!