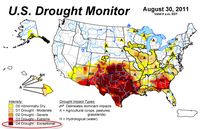 Sure, we've always had crazy tornadoes and such here in Central Texas, but the idea of hurried mass evacuations has always been something that happens somewhere else, like to people on the coast. NOT TODAY. Within 30 miles of my own home, hundreds of people have suddenly lost theirs. Over 300 homes were just lost to wildfires yesterday in Bastrop, Texas, and about 20 miles away, at least 25 more homes were lost in the Steiner Ranch subdivision of Austin.
We're having a historic drought– I don't think people realize how bad it is– and Tropical Storm Lee that we wish would have brought rain to us has instead brought high winds, making wildfires almost inevitable. (Click the image above to see a larger view of a current drought map… brown = "exceptional.")
September is National Preparedness Month, and that seems all too appropriate given the recent earthquake, Hurricane Irene, the 10th anniversary of 9/11, and now these Texas wildfires.
So take a minute and think about it– what would you grab if someone said you must leave your home immediately? Our local news showed footage of people packing up their cars with everything they could.
Take 10 minutes and make a list TODAY of what is important to you in this kind of emergency situation, and then figure out how to pull it together quickly if you had to do so. What would you do with your pets? Where would you stay? What would you pack in the car and why? Here are some thoughts I've had about this today:
Photo albums
Pet items and our dog and parakeet
Phone chargers and phones
Laptops and computers
Our PortaVault of important papers
Some financial files for our business
I keep thinking of more… What would you bring?
FEMA has a great checklist of what to do before evacuating for a wildfire here. For example, would you think to disconnect your garage door openers? Great idea if there is no power when you return. And Ready.gov is a comprehensive preparedness site that has multiple checklists and resources too.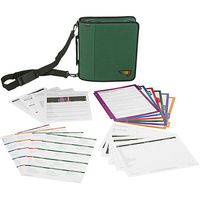 Coincidentally just this past Thursday, we made as our September special in our shopping cart the Vital Records PortaVault, which has won awards from the SF Bay Area Red Cross and other associations for being the perfect product to gather all of your essential information for an emergency.  So it seems extremely relevant to tell you about that right now, since I am for sure going to be updating and checking mine! The PortaVault is a canvas binder with a water resistant case and a strap so you literally can grab it and go, including dividers and instructions for keeping all of your crucial documents together. We made it 20% off for National Preparedness Month (and members of our program get an extra 10% off). 
Overall, it's yet another reminder about what's important. As you are getting organized and making decisions about your stuff, ask yourself, "Would I grab this in the event of a fire? Is it really that crucial?"  From Bastrop resident Lisa Ross, quoted in a CNN story on the wildfires: "You learn what is valuable in life, and it isn't the stuff."
Have you ever had to evacuate your home? What did you learn? And what is an unusual thing that you might grab to take with you that we might not expect?  Share in the comments!

Follow me on Twitter for my Daily #ClutterTweetTip, "Like" us on Facebook, and see our weekly #ClutterVideoTip on YouTube at http://www.youtube.com/clutterdiet