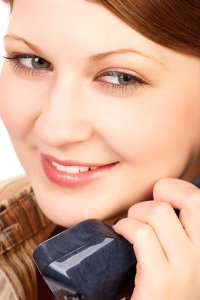 When we are consulting with our members daily in our message boards, we sometimes find that things that they are grappling with are actually ONE PHONE CALL away from getting resolved! I am often surprised at this in my own life, too, when I have one of those days where I knock out tons of stuff on my list.
Isn't it amazing how we procrastinate things that are so simple? Here are some things I have experienced personally, I have seen with our clients, or our members have told us about:
Home repairs. Our glass shower door wasn't closing…for months. Our handyman tried many trick-fixes that didn't work. ONE PHONE CALL: Fixed the next day for $150. Ugh, why did I wait so long? I still relish each time I take a shower and it closes properly.
Cracked windshield. ONE PHONE CALL: Fixed the SAME day, and the guy came to my house to do it. It was only a 7 minute call to my amazing insurance company, USAA–it was so remarkable I noted the time on my phone handset.
You've misplaced a document like a tax statement. ONE PHONE CALL: You can usually get someone to send you something via email or even fax that same day.
You don't know how much something costs. ONE PHONE CALL: You can usually find out what you need to understand and more from calling the relevant company. If you want to get straight to a human being at large corporations, there is a list maintained online at GetHuman.com that allows you to bypass the phone menu nightmares.
You have junk that needs hauling away and items that need to be donated. ONE PHONE CALL: You can get all of your clutter hauled away and your stuff taken to Goodwill®! This is a big wink to our partners at College Hunks Hauling… our readers/members can get $30 off their services when they mention us! You can read more information here: www.collegehunkshaulingjunk.com/clutterdiet
What could you knock out today that ONE PHONE CALL would solve? Are there nagging repairs, dental or medical appointments, or pieces of missing information that you need to get off your mind? Take a moment and get it done! Share your ONE PHONE CALL success stories in the comments!

Follow me on Twitter for my Daily #ClutterTweetTip, "Like" us on Facebook, and see our weekly #ClutterVideoTip on YouTube at http://www.youtube.com/clutterdiet
If you are not reading this on clutterdiet.com/blog, in your own RSS reader, or via an Amazon Kindle subscription, this content most likely is being used without the author's permission and is violating copyright law. Please do not support these scraper sites!