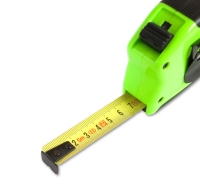 When we work with clients and members of our online program, people are often surprised when we don't have them buy organizing supplies in advance. "Don't you need some bins or something?" they ask.
We often do need some bins. The issue is that we don't know which kind, what size, how many, or what they are going to hold until we have waded into the project and can see what is needed.
We do have tools, and we describe in our program how to put together your own organizing toolkit. We have label makers at the ready with extra refills and batteries, permanent markers of various sizes, trash bags, and other items, but one of the most crucial tools is a simple measuring tape.
The old carpenters' adage is, "Measure twice, cut once." For our purposes, you want to measure twice and BUY once. Don't skip this important step when making a shopping list! Whether you need baskets or a lazy susan for a certain shelf, or you're measuring to take your numbers to the hardware store to cut closet components, you want to avoid purchasing mistakes that require your time and effort to correct. Raise your hands out there– who has had some stuff to return to the store that ended up assimiliating itself into your house as clutter?  Yes, I see the hands… you know it's a pain to find the receipt and take something back before the store's return policy expires. So measure first!
Here's what you may need to measure and note during your projects: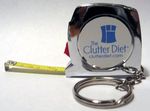 Shelves
Existing bins/containers
Approximate sizes of stacks or piles
Numbers of items per linear foot (books, DVDs, files, boxes, etc.)
Furniture
Rooms/Walls…
We recommend carrying a little keychain tape measure with you in your purse or pocket— we even sell one in our store because we think it's a very important thing to have with you when you are shopping. You would be surprised how often you use it! Click here if you want to read more about the 3-foot keychain measuring tapes we have for sale. (They are excellent stocking stuffers, I might add…)
If you are shopping online, my assistant recently found a cool site called PSIZEY.com that will allow you to search Amazon products BY SIZE. So if you are trying to buy a table, you can enter the height, width, and depth you are trying to stay within and it will pull up product results for you with the measurements given right there to check. Interesting! If you try this site, let us know if it helped you by writing here in the comments.
So how do you measure up? Are you a Meticulous Measurer or a Perturbed Purchaser? Share in the comments!

Follow me on Twitter for my Daily #ClutterTweetTip: www.twitter.com/clutterdiet, and see our weekly #ClutterVideoTip on YouTube at http://www.youtube.com/clutterdiet