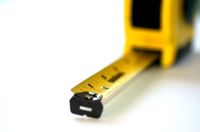 True confession: Repeatedly for months, I was opening my back door to the deck outside and looking at the metal weather-stripping that was sticking out, thinking, "Huh, someone should really fix that." And nobody ever did, until we had a party recently. When I saw the ugly door facing through my future guests' eyes, it became clear that now was the time! I grabbed a hammer and some small nails, and within three minutes, it was as good as new.
The resulting feeling was one of great satisfaction, but also of chagrin and puzzlement. If it was so simple, why didn't that get fixed for so long?
There are four main reasons that your home improvement is not improving on the Good Housekeeping Home Style Blog. 
What home repairs will you get done today? Share in the comments!
 Follow me on Twitter for my Daily #ClutterTweetTip, "Like" us on Facebook, and see our weekly #ClutterVideoTip on YouTube at http://www.youtube.com/clutterdiet