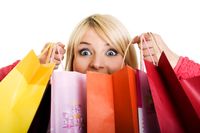 Did Santa get it wrong? Did the gift cards you got last year already expire or get lost? I explain how to make sure your gift cards get used and your less-than-perfect gifts get returned before they end up assimilating into your house as clutter!
When I was a little girl, I remember so clearly this enticing present under the tree, wrapped like a long piece of candy. I couldn't wait to open it! And it was… a toy MOP. Whoopee. Definitely the most disappointing present ever.
Unwanted gifts like these can become clutter, and as professional organizers, we often talk people into parting with them years later. Before these gifts start working their way into your closets and cupboards, click here to learn how to make your plan to get these gifts returned on the Good Housekeeping Home Style Blog.
 Follow me on Twitter for my Daily #ClutterTweetTip, "Like" us on Facebook, and see our weekly #ClutterVideoTip on YouTube at http://www.youtube.com/clutterdiet