I remember being pregnant and having the "nesting instinct," that deep-down urge to feather the nest with appropriate nursery gear and clean and sanitize and otherwise outfit ourselves for the new baby. This instinct was very strong, and I spent a lot of time and energy preparing for the addition to our family.
Now one of those babies just left for college, and I have been smacked between the eyes with this new instinct:  Un-nesting. The opposite. DOWNSIZING. Not addition, but subtraction.
I spent this weekend cleaning out his room, even washing the walls. I got rid of LOTS of stuff, not just in his room, but everywhere around the house. His leaving has caused me to look at everything differently and realize we are going into another stage of our lives. Even though we already have things fairly streamlined, I am finding a lot more we still don't need now that our kids are departing.
If you are storing items in your home that belong to other people, I wanted to share a handy technique with you for clearing it out. I printed a sheet of address labels from my computer with very large, bold numbers 1-30. I spread out an array of items on the bed and put numbers on each of them and took a photo.  I took about 5 photos total with a few items in each, then I sent my son the pictures via email. All he has to do is tell me he wants # 4, 7, 11, and 22 and it's as simple as that. I know my son doesn't want to describe "the navy long sleeve with the henley collar," so the numbers fix that problem. Everything he doesn't want will go to his brother and then to Goodwill (find your nearest donation center here!).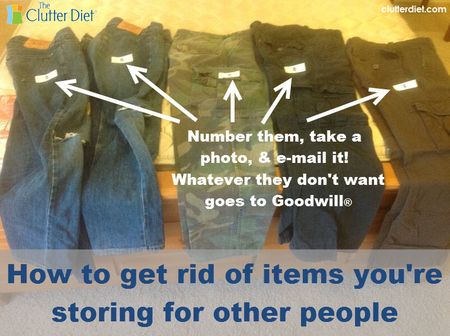 Our other son is still home for another year, and I am going to use that time to continue listening to my downsizing instinct, going room-by-room and paring it all down. Our program's weekly plans take you through your entire home over a year's time, so I will be following that and you can too! You can try out our memberships free for 14 days and have access to our current plans, along with access to a team of organizing experts for unlimited personal advice online. Learn more about that here.
Have you experienced this un-nesting instinct? Have other life transitions motivated you to get streamlined? Share in the comments!

Follow me on Twitter for my Daily #ClutterTweetTip, "Like" us on Facebook, PIN with me on Pinterest, see me on Instagram at loriemarrero, and watch our weekly #ClutterVideoTip on YouTube at http://www.youtube.com/clutterdiet