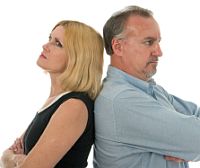 Yes, you heard me correctly… I am talking about how clutter affects your time in the bedroom. Although I am not privy to exactly what goes on behind closed doors, I have seen a lot of marital conflict during my 9 years as an organizer, and I have seen a lot of messy spaces that go with it, so I am drawing my own conclusions… here are four more reasons you might want to get organized:
1. Disorganization increases conflict. I have personally witnessed arguments over piles of paper and "stuff," disagreement over the use of a space, and anger over excessive shopping. Conflict and frustration also surround lost items, wasted money, and wasted time. Conflict is not conducive to intimacy!
2. Physical clutter in the bedroom, even on the bed, may literally be in the way. I have seen some bedrooms that would be difficult to sleep in, much less, well… you know. If clutter is overtaking the flat surfaces in your room, it may be impairing your ability to enjoy the space. Enough said.  😉
3. Clutter in the bedroom reminds you of other parts of your life that might be stressful. Piles of laundry, piles of work materials, kids' toys, paperwork, and other similar stressful clutter means that you are reminded of those things constantly as you look around. You also wake up to that every day and are instantly reminded again of the undone work and cleaning demands. It's not very romantic to look around you and see your unfinished stack of employee reviews, your husband's unfolded underwear, and some Dora the Explorer toys, and then step on a few Barbies or Bratz dolls on your way to the bathroom. Imagine a relaxing space that is just for the two of you… a place of rest and renewal that is an oasis from your daily stress.
4. Clutter steals your time and energy– time and energy you could be spending on your relationship. As I say in my book, all clutter is ultimately just delayed decisions and delayed actions. It's very much about procrastination. Deciding where to keep it, whether to keep it, what to do to dispose of it, etc. It saps your time away every day, little by little. Each item is something that individually pulls on you and drains your energy until you decide what to do with it and then take action. Imagine having all of that time and energy back– reclaimed– to spend on your partner! We're talking about some serious sparks!
Has clutter affected your relationship? Does one of you have a disorganization problem that has spilled over into your intimate time? Have you successfully solved this and want to share your tips? DO TELL–in the comments!

Follow me on Twitter for my Daily #ClutterTweetTip: www.twitter.com/clutterdiet