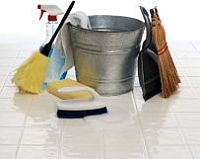 People often ask me how to organize their cleaning supplies… the main question being whether you should store the supplies together in a central location, or have duplicate supplies throughout the house in each bathroom or on each floor? The answer– it depends! Let's look at some of the factors:
Who is cleaning? If you have a housekeeper, that person is likely cleaning in "one fell swoop" throughout the house. The best approach for this is to have the supplies centralized in one place, like the utility/laundry room, with a carrying caddy that is used to easily bring the supplies from room to room.
Are you a Batch Processor, or a Continuous Processor? I wrote a blog post about this a long time ago (click here to read "How Baking Cookies Relates to Procrastination"), about whether you prefer to batch tasks up and do them all at once vs. doing tasks as they come and handling them in "real time." If you like to clean your bathrooms as you go, such as wiping up the mirror as soon as you notice spots, you will want to keep at least a few frequently-used cleaning supplies in each bathroom. Batch Processors are probably going to clean in "one fell swoop" like a housekeeper, so the centralized approach would be better.
Do you have good storage where you want it? If you have storage space that is adequate for cleaning supplies in each bathroom, that's great, but if there is only a pedestal sink and nothing else, the centralized approach might be better for you.
Do you have multiple floors in your home? If you have 2 (or more) floors, you might consider having a duplicate set of supplies for each floor. You could have one centralized caddy for each floor with all supplies, or you could have supplies in each bathroom. If it makes sense, you have the storage, and you have access to another vacuum cleaner, it can be wonderful to have a vacuum on each floor. We once had a central vac system, and you had only to carry the hose around and plug it into the outlet. We ordered a second hose unit for the upper floor so we'd have even easier access.
The perfect compromise:  Have one centralized set of cleaning supplies with a large carrying caddy, then have a few quick-cleaning wipes in each bathroom to touch-up. Disinfectant wipes are so great for touching up right before someone rings the doorbell, or for homes with, ahem, lots of boys… The centralized approach is also better overall for shopping efficiency (knowing when you need to buy things). Getting a large, sturdy cleaning caddy is really key, so choose wisely!
There is not any giant rule from above about these things– it's whatever works for you! What have been your solutions? Share in the comments!

Follow me on Twitter for my Daily #ClutterTweetTip: www.twitter.com/clutterdiet