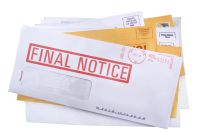 It's National Pay Your Bills Week (3rd week in February). I think this means we get to eat cupcakes while we are writing checks this week.  🙂
Given the current economic climate, this subject is more important than ever! You really want to get this process down to avoid late fees and other unnecessary expenses related to disorganization. Here are my top ten tips, edited down from our article on Managing Your Personal Finances, available in our member area for our Clutter Diet® online organizing program.(We have hundreds of searchable articles in our member area, along with hours of multimedia tutorials and audio content!)
Have a designated home for bill-paying supplies like checks, deposit slips, letter openers, pens, payment coupon booklets, postage stamps, envelopes, return address labels, a calculator, and a stapler.
Decide on certain days to pay the bills, then stick to your plan consistently. You might choose the 1st & 15th, 10th & 25th, every week, or every other week on a certain day. I pay my bills every Tuesday, and it gives me great peace of mind. (Members can use our Clutter Diet customized e-mail reminder system to help them remember.)
Keep all bills together in one place as they arrive. You can use a tray or vertical sorter to keep them visible and ready, or even a clothespin.
Automate as much as possible, directly with your vendors. You can set up payments with most vendors to pay automatically either by credit card or automatic draft.
Don't hand-write checks and mail them out if you don't have to! Use your bank's online billpay features for vendors who don't have automated payment options (or if you just prefer having more control). You can set up recurring payments that you never have to worry about again, like the mortgage payment, the orthodontist, or anything.
Simplify your number of bills by consolidating down to only 1-2 major credit cards instead of multiple department store and gasoline cards.
Pre-inked rubber stamps are fantastic. Get one made for endorsing checks for deposit with your name, "For Deposit Only" and your bank information on it. Also get a PAID stamp with rotating date wheels so you can breeze through notations on your bills quickly.
Our favorite way to file paid household bills and bank statements is by month. You can buy a brown accordion file in the office supply store marked January-December. Just put everything for each month in there, tie it up with a big bow at the end of the year and start over. You can keep these in archived storage for the 7-year period that is normally recommended (check with your accountant or attorney for retention advice specific to your situation).
Go paperless. Most major institutions would now prefer to send paperless bills, and it means less paper clutter for you to handle and file. Look on the envelope flap of your bill's return envelope or in the text of the bill itself to find out how your statements can be electronically received. (Make sure you have a good backup system on your hard drive!)
Get complete freedom from all bills. If you travel often, or if you are paying bills for an elderly relative, or if you just don't like dealing with bills at all, you might like Paytrust.com. They are now owned by Intuit, and have been around for at least ten years. We started using Paytrust when we went on a sabbatical in 2000. They assist you in changing all of your bills' addresses to their clearinghouse, where they receive them and scan all the bills in color. They notify you via e-mail that the bill has arrived and tell you what is going to happen next. You set up payment rules for each payee to automatically pay when the bill is received. You can set up rules like, "Pay this bill automatically within (x) days of receipt, as long as it's under (x) dollars." You can also use multiple bank accounts. Paytrust charges $12.95 per month.
So go eat those cupcakes and get those bills paid this week! Let me know how you're doing and share your favorite bill-paying tips in the comments.

Follow me on Twitter for my Daily #ClutterTweetTip: www.twitter.com/clutterdiet