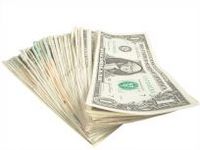 Wouldn't it be great if you could turn your clutter into some good old-fashioned green cash? According to an eBay/Nielsen survey, the average American household has about $3000 worth of valuable items waiting to be cashed in! Here are three ways to capitalize on fashion mistakes, impulse purchases, and things that have outlasted their usefulness.
I made a quick video about this, which you can see by clicking here (unless you are on a Kindle… you'll need to go to a computer to view).
1.  Get cash quickly on Craigslist or eBay. Craigslist is the modern answer to the classifieds in your local newspaper, and it's free in most cases and is very easy to use. eBay is great too, and is especially helpful if your item is a collectible that may go for a higher price if offered to a larger market. Here are a few things that net a particularly nice return:
Name-brand children's clothing: This clothing really holds its worth, particularly considering how fast kids outgrow it.
Kitchen equipment: Stand mixers and other high-quality, small kitchen appliances are valuable to the eBay community. That is great news, as I have seen many a kitchen with too many gadgets they don't use! My favorite example of a superfluous kitchen gadget? A "Hello Kitty" waffle maker. Yes, really.
Exercise equipment: Your treadmill no longer needs to burden itself holding up your clothing before it gets washed or hung in your closet! Let it go to a good home where someone will appreciate its true gifts. (See previous post on the Top Five Jumbo Space Hogs for more of these!)
Used china: Evidently the better strategy is to sell these by the piece, so that people can replace individual pieces in their collections, vs. selling the set as one lot together.
(More of these on my similar, previous clutter-into-cash post here.)
If you don't have time or know-how to sell items on eBay or Craigslist, you can always get help from one of your kids or hire a savvy neighborhood teenager to do the listing and selling for you– this is a great way for them to use those natural tech-skills and make a little pocket money too. You can tell them they get a percentage of what they sell, and you can consult with them on the specifics of the item description. (Do make sure this person is someone you trust.)
2.  Maximize your tax deductions when you donate items. Most people grossly underestimate the value of the household goods they are donating to charity. Did you know that a donated pair of adult athletic shoes in excellent condition is valued at $15, and a woman's pant suit is valued at $33? Instead of writing down a rough estimate for the whole box of stuff, take just a few moments to get the information about the values from www.itsdeductible.com, a free resource online that is like the "Blue Book" for household goods. You will be very surprised how much you can save on your taxes! To help you add up the savings, you can use our "Donate for Dollars" donation tracking sheet, a free printable form available at www.clutterdiet.com/freetips (look on left side of page for printables list).
3.  Let someone else sell your stuff for you. Consignment stores are thriving in this economy, as people realize how smart it is to get cash for their stuff and buy used items instead of new. There are specialty consignment stores for sports equipment, or children's clothing, or women's or men's clothing. Some stores specialize in selling on eBay, which would be another great alternative if you are uncomfortable trying to list items yourself. You might earn, for example, 50% of the sales price of the item, simply by leaving your used clothing, furniture or jewelry at one of these establishments. You will want to call first to find out each store's policies (don't just "show up" with your stuff), and if you bring in clothing it needs to be clean and wrinkle-free and ready to sell.
Many people have trouble motivating themselves to get organized, so now you can think about dollar signs when you see those piles of clutter and let money motivate you into action! You could sell enough to make an extra payment on your mortgage or pay off debt on a credit card. If you need help or more ideas, visit our site at www.clutterdiet.com, where we provide affordable access to a team of professional organizers to answer all of your personal questions and get you unstuck!

Follow me on Twitter for my Daily #ClutterTweetTip: www.twitter.com/clutterdiet