(UPDATE: The winning photo has been chosen, and it's revealed in this cute video on YouTube! Congratulations!)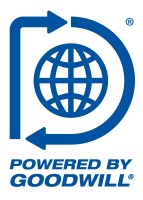 In June it was my honor to help launch the Donate Movement with Goodwill®  and the first Donate Movement partner company, Levi's®. (Click here to watch our launch with a fashion show courtesy of Tacoma's Goodwill, and speeches from me, CEO Jim Gibbons, and partners from Levi's and the Russell Family Foundation.) Our vision is that the Donate icon will be as recognized as other famous symbols, like the recycling symbol or the pink ribbon… so, we are promoting this photo contest to help push that vision forward!
Levi's put the Donate icon on their jeans– where will you put it? Send in a photo showing the Donate icon on your donatable item, and be creative! The photos will be judged, not drawn at random. The deadline for submitting your photos is November 22, 2010, and the grand prize is valued at over $400, including a Levi's denim jacket, a Levi's tote, a denim apron, a Levi's Flip video camera, a $100 Levi's gift certificate and more. Other details available on Goodwill's Donate site at http://donate.goodwill.org/contest.
Watch this video for more info:
Again, visit http://donate.goodwill.org/contest to learn how to submit your entry and to print/download the icon graphics you can use. Where will YOU put the D?

Follow me on Twitter for my Daily #ClutterTweetTip: www.twitter.com/clutterdiet, and see our weekly #ClutterVideoTip on YouTube at http://www.youtube.com/clutterdiet