When we are organizing clients' homes, a lot of clutter is related to laundry– dirty laundry clutter on the floor, piles of laundry waiting to be washed or folded, and folded laundry waiting to be put away. Laundry clutter is a HUGE problem for many families! I was just explaining this to my children today as they complained about having to put their clothes away– if there is one step in the process that is stopped, it bottlenecks the rest of the steps.
Here is our Laundry Cycle diagram that shows clearly all of the steps of the laundry process. Click the picture for a larger image.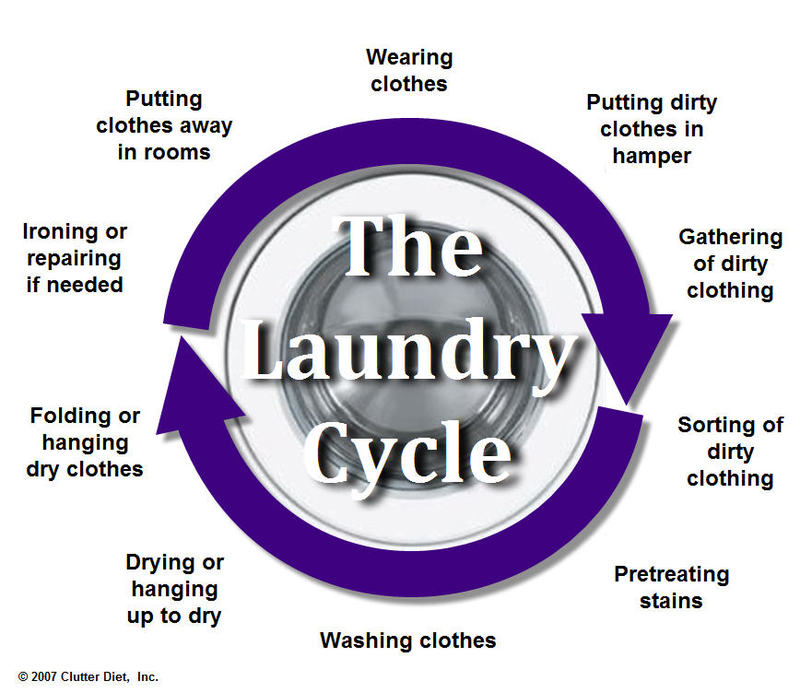 Most people have never thought about this much before, and maybe you don't need to. But if you have any of the laundry clutter I have described, give some thought to which steps in your process are bottlenecked and what you can do about them. Is it an ownership problem (identifying whose responsibility to do it)? Is it an infrastructure problem (not a good place or right equipment to do it)? Or is it an execution problem (not doing it when you're supposed to– like kids leaving clothes on the floor)?
Ultimately, the goal is to have clean clothes in your closet to wear when you want them. Use this illustration to discuss the process with family members if you wish, and get some help to make the bottlenecks disappear!