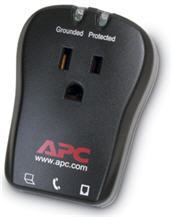 Part of our definition of being organized is being ready and prepared. I was certainly glad that I was prepared last night with a surge protector for my laptop! I am in Florida right now, and we had a huge thunderstorm last night. (And I understand my hometown of Austin is getting pummeled with storms as well!) Whenever I hear thunder, my first thought is, "I must unplug my computer right now." It is a fact that lightning strikes can ruin electronic equipment, especially if they are not plugged into surge protectors. I personally have lost a printer this way, and I know someone who has lost a laptop. I am fanatical about using surge protectors, and even with them, I will still jump up at 3:00AM to unplug things anyway. Computer expert Kim Komando says that not unplugging during storms is one of the biggest mistakes people make with their computers.
I packed this great little surge protector with me while traveling that is just perfect. It's the APC Essential Surgearrest for Notebooks (model P1T) –this photo is from their website. It's only about 3x2x2" and costs $12.99. I got mine at CompUSA. I was really glad my laptop was plugged into it last night during the storm, and last week in Puerto Rico I was very glad to have it because the power supply there is somewhat unreliable and fluctuating.
Frying your computer definitely has a negative effect on your productivity! Make sure your stuff is protected today.